Discover more from The Workbooks
the daily practice of being alive // creativity, art + the writing life
organic shapes | NOVEMBER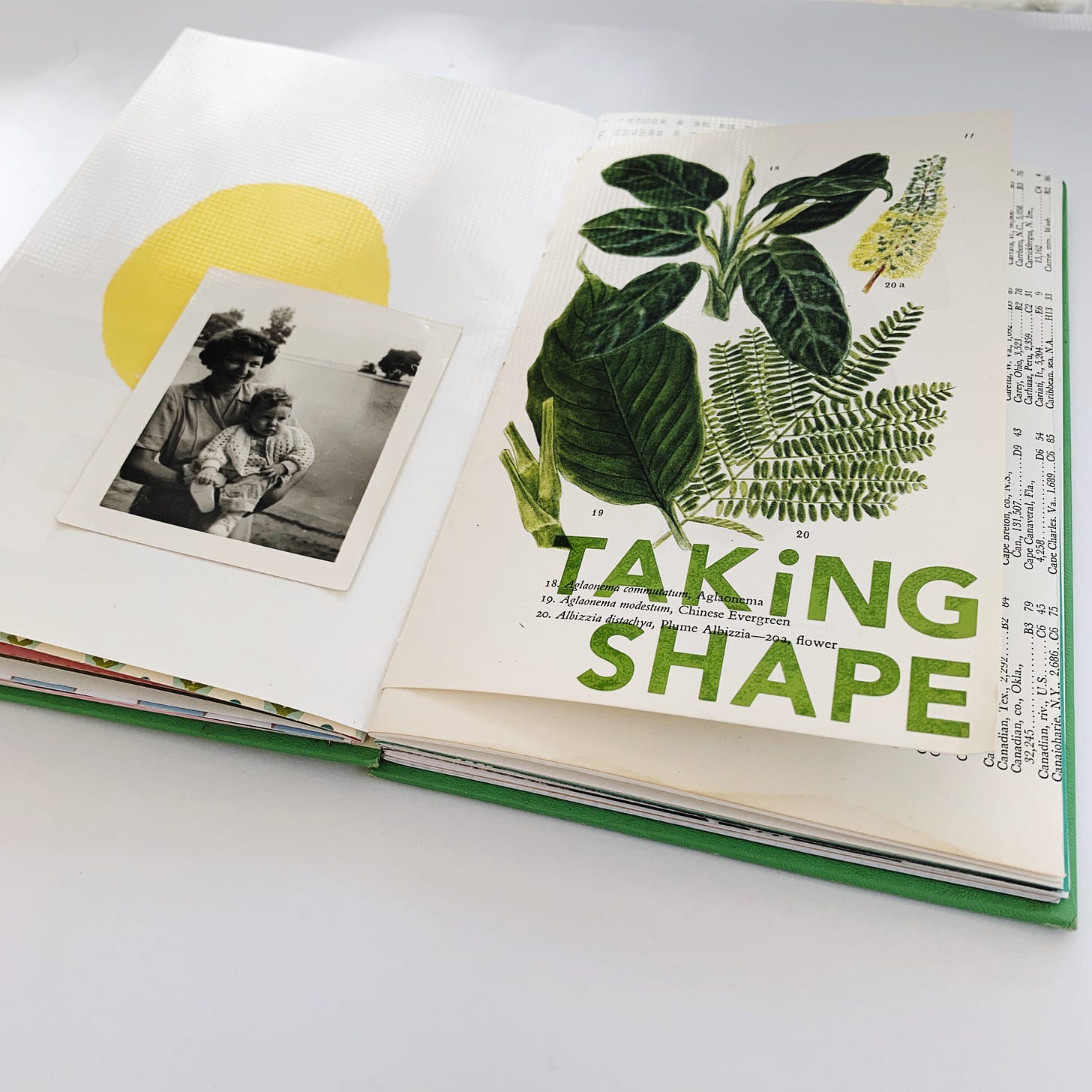 A few months ago I was lamenting to a writer friend that while I felt really solid about the arc of the story I'm telling in Underbelly, my visual memoir about postpartum anxiety, every time I tried to make art for a page, it was wrong. I knew what I was looking for, and I wasn't finding it on the page.
"There's an ease I'm going for," I told her, "and it's just not happening."
I'd prep a page with gesso, wait for it to dry, and then try to coerce watercolors into doing what I wanted them to do. (Watercolors, in my experience, do not respond well to coercion.) If the shape was right then the color wasn't bright enough against the off-white paper I wanted to use. If the color worked, then the shape was all wrong— much too sharp-edged and intentional. I needed control over the shape but for it to feel organic, I needed color that had some translucency and yet still felt bold. A conundrum.
I did not know how to do what I need to do, so I set it aside. But I thought about it constantly.
Recently I workshopped a couple of my coming-of-age memoir chapters with a small group. One of the participants was familiar with my memoir from its baby germination phase and remarked on the level of development. Great to hear! But also, getting to this point (where I can take one aspect of my life and write a very crystalized chapter with a clear point of view) feels less like development and more like s-l-o-w-l-y chipping away at rock and finally getting a glimpse at the shape of the thing you know is buried underneath.
I've had moments of extreme doubt (with my inner critic sneering "no one cares about this!") with that project, but ultimately keep coming back to what made me sit down and start writing it in the first place: a whisper that said "there's a story here."
Notice that the voice didn't tell me what the story was, just there was a story. At first, I assumed it was a different story, the story that seemed most obvious to me. I knew the shape of this story, only it turns out the shape it makes feels wrong once it's on the page.
Faced with a shape that wasn't the right one, I (eventually) decided to keep going. If someone told you there was treasure buried in a specific spot and handed you a teaspoon, would you walk away if you didn't find it immediately? Or would you find better tools and carry on?
So I wrote and I workshopped and I thought about the feedback I was getting and I learned about craft. (And repeating all of these things, until the end of time.) I wrote some more and - surprise!- underneath the shape of the story that didn't work was the treasure: the story that does work (at least, for right now).
It's not a story I want to tell. I wish that some of the characters weren't ghosts. I wish it had a different ending. It is, as I wrote in Underbelly, "a piece of my heart on a platter, offered up with a steak knife." But there really aren't many ways to get out of writing the story that won't leave you alone. And then, of course, there's this poem by Sean Thomas Dougherty: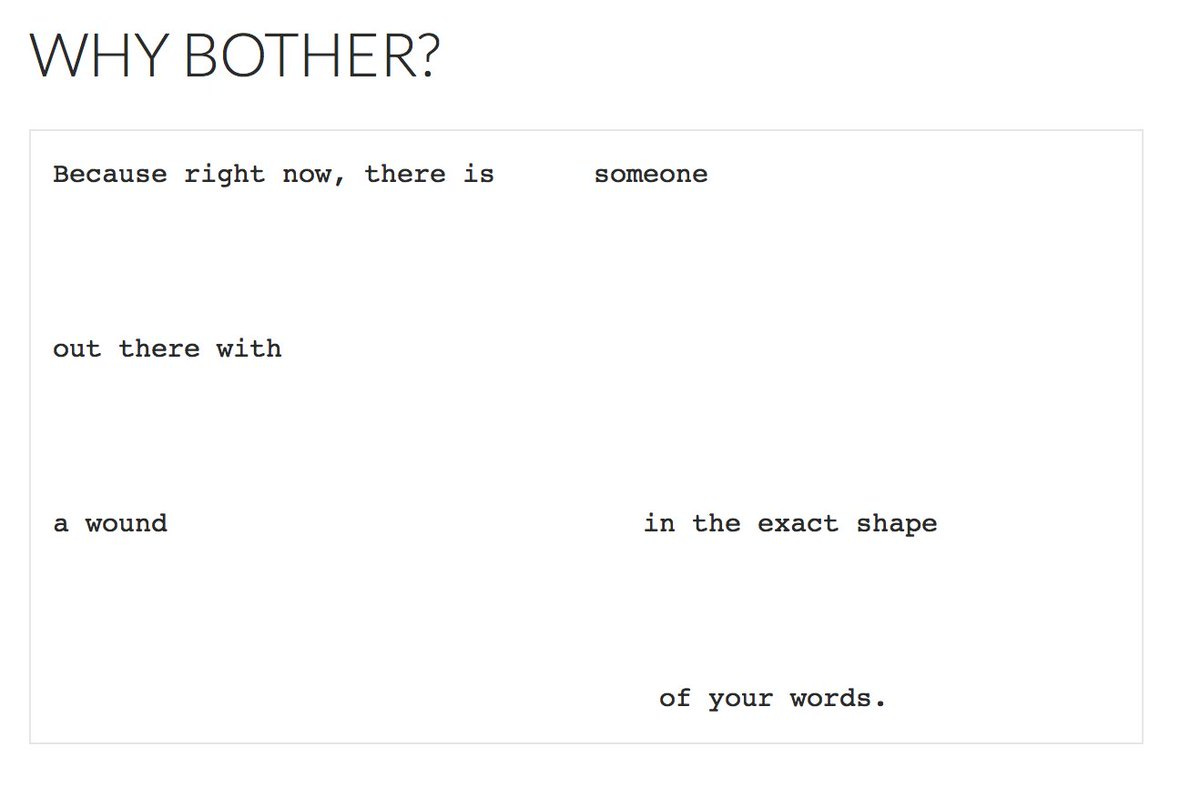 But the point is I would have never found the right shape if I hadn't started with the wrong shape.
Around the same time I workshopped the memoir chapters, I had an aha moment. I could make the shapes I was after for Underbelly with a gelli plate and a piece of cardstock. I've never come across a tutorial for this technique although I am pretty positive I am not the first person to try it. I was delighted when it worked the way I wanted it to and I've done some experimenting.
If you think about something long enough, you'll find the shape of it. It might look different than you thought it would. It might take months, it might take years. Keep digging.
---
Reading/Watching/Listening
"Watching Emily in Paris is like drawing a warm bath for my brain cells" this show (on Netflix) has been widely panned and it's probably deserved but I did enjoy it as it was pure escapism.
Loved this interview with Alisson Wood on her memoir Being Lolita (which I still need to read!)
I read a new short story from Curtis Sittenfeld called Giraffe & Flamingo and I might be able to forgive her for Rodham (which I hated).
I recently joined Book of the Month Club (affl link; getting shit in the mail is one way I'm ~*coping*~); my first book was Transcendent Kingdom by Yaa Gyasi. I loved it, highly recommend.
Then I read Midnight Library by Matt Haig. Loved that, too.
I watched American Murder: The Family Next Door and was disturbed.
Recently discovered Nina LaCour's podcast, On Keeping a Notebook. Podcast listening time is in short supply these days so I appreciate her short episodes.
---
Thanks for reading. If you have a friend who would enjoy regular essays on creativity, art, and writing, please forward this along. If you're seeing this for the first time, you can subscribe here. For more, follow along on Instagram @theworkbooks.
---