Only Good Things
Apologies for the unexpected hiatus. As I'm sure is the same for you, my life has been turned upside down by Covid-19. My kids are both at home with me full-time, and my daily routines have needed some adjusting. Weekly newsletters aren't going to happen right now, but I hope to be in your inbox at the beginning of the month.
On to the good stuff!
---
I had an extremely vivid dream a few mornings ago. I woke up to my toddler's request to open a squeeze pouch, then rolled back over and had the sweetest dream I've had in a long time.
In my dream, my husband and I were moving into the same house I lived in as a small child. It was the last house we lived in before my parents separated, and I have very happy memories and very sad memories from our time there. The house itself is nothing special; a pretty standard 80's home in suburban Houston (it did have a truly giant pool in the backyard).
In my dream, it was beautiful inside. Light and bright with high ceilings. And as it is in dreams, I kept finding rooms that don't exist in real life.
I opened one door on the second floor and looked around in amazement. There was a giant oak desk, a child sized grand piano with a tiny chair, an antique couch upholstered in ice blue velvet. There was a china cabinet, too, and although I didn't peek inside, I somehow knew that it contained only good things. It was a gorgeous room. "I could write in here," dream-me thought. I was delighted.
In my not-dream-life, I continue to revise a memoir. It's a story about finding home and a place to belong. It's a love letter to ex-boyfriends and the experience of coming-of-age in the early aughts. It's also a story about grief, and loss, and trauma. Writing it feels great and terrible at the same time. I can be delighted at my cleverness in pulling the threads of this story together (yesterday I came up with a metaphor I'm still patting myself on the back for) and also cringe while prodding into past emotional wounds. I need to write this story before I can find other ones. Not writing it isn't an option.
Maybe it's only fitting that I'm finally getting into the deep work of revising this thing while the world is collectively grieving.
I keep thinking about that ice blue velvet couch, the sunlight slanting on the wall, and the china cabinet of only good things.
The meaning to me was clear. Keep going. This might feel terrible, but good things will come from this. See how beautiful it is?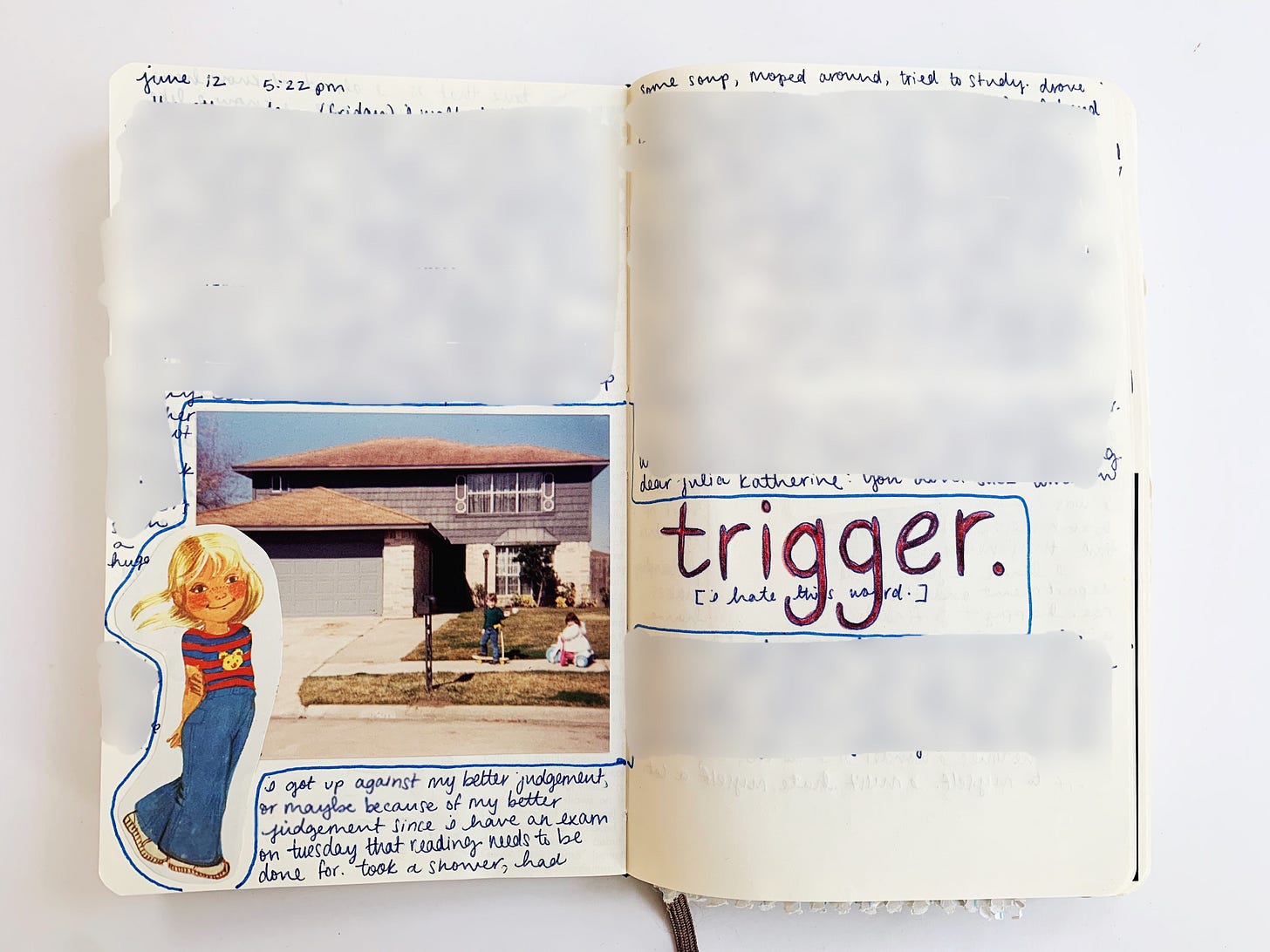 A journal entry from 2005, with a 1988 photo of the house in my dream
---
Social Distance Survival Pack
Some things that are helping me right now:
Anything that's really helping you lately? Let me know in the comments!
---
Thanks for reading. If you have a friend who would enjoy essays on creativity, art, and writing, please forward this along. If you're seeing this for the first time, you can subscribe here. For more, follow along on Instagram @theworkbooks.