Office Hours | AUGUST
Hi, friends. 2020 has become a whole thing, hasn't it?
Last August, I was hoping things would just magically fall into place once my children were in school during the day. In many ways, they did. I started this newsletter, made progress on my writing goals, and learned A LOT about writing and creativity.
And then. School went virtual, and then we made the decision to homeschool for at least the 20-21 school year.
So what now? How do you raise boys and write books at the same time?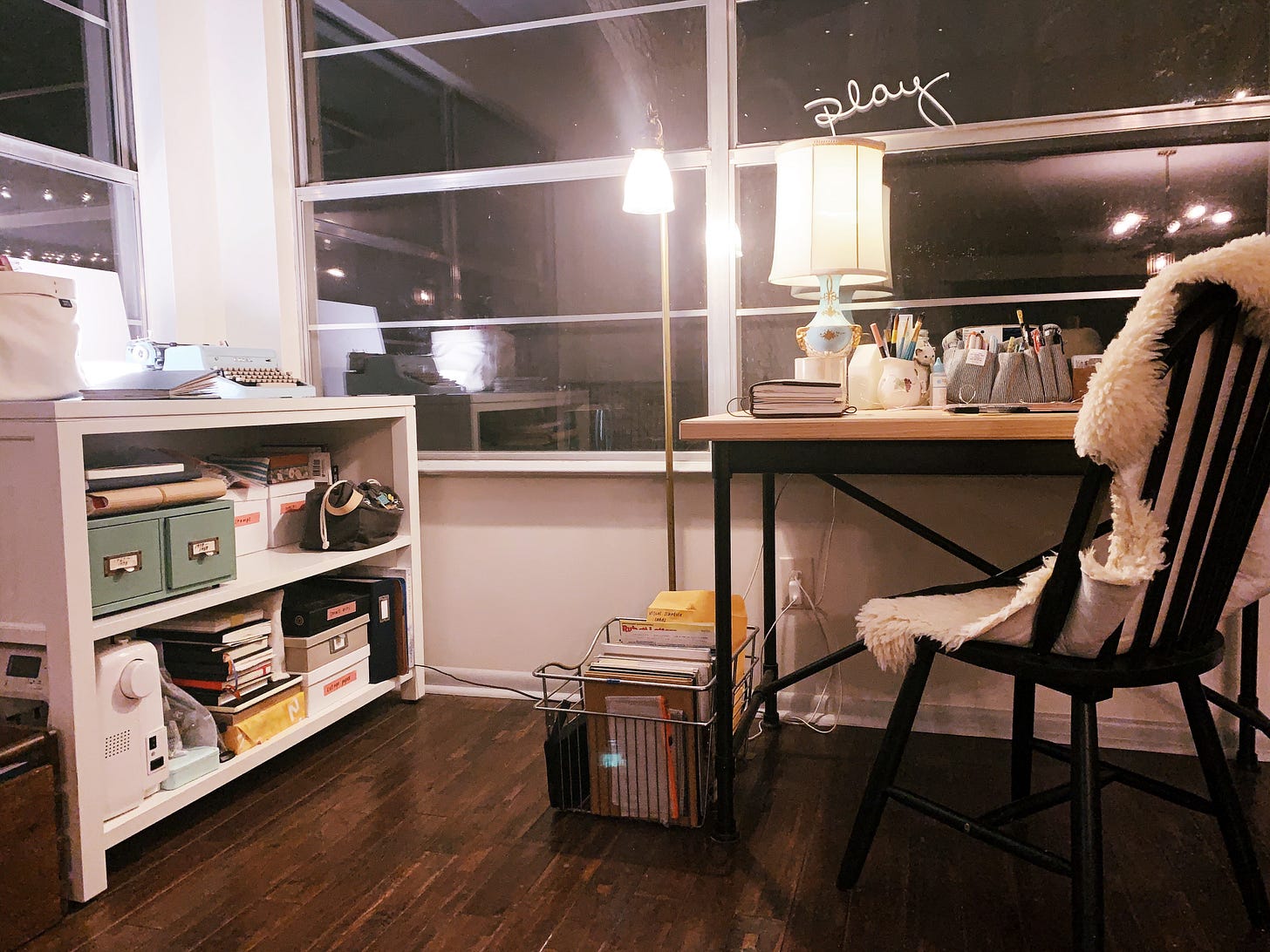 10 am, after I've written morning pages and all of the coffee has kicked in, is my prime creative time. This is when all the experts say I should be writing 2000 words a day or whatever. But when you're a little boy, 10 am is prime mischief making time. My kids are home for the long haul; whatever schedule I attempt to aim for needs to be realistic and sustainable.
I've done enough therapy to know that winging it as far as finding time for my own creativity was a bad idea. But without any time during the day (my youngest doesn't nap), and limited time in the morning (my oldest is up around 6 am; waking up at 4 seems inhumane), I had a hard time identifying a chunk of time when I could reasonably expect to be able to work in any capacity. I eventually landed on 8-10 pm.
It's not ideal (many days I'm already pretty tired at this point, and not thinking clearly, which does make writing difficult; also, I like my husband and would like to spend kid-free time with him), but on a good night, no one interrupts me (on a bad night, like tonight, I get interrupted 7 times in the 8 o'clock hour). On the other hand, my desk is cozy at night, the house is (usually) quiet, and the opportunity to put in my AirPods and hang out with my thoughts feels pretty decadent (particularly after hearing "Hey, mom…" on repeat). Like I said, not having any dedicated writing time makes me pretty cranky, so even less-than-ideal situations are a vast improvement.
My next reality check was: exactly how much writing am I expecting to get done during this time? As my new accountability buddy pointed out, I can't expect to write hard for 2 hours, 5-7 days a week. I mean, that would be great output, but it's not realistic. Also, where's the opportunity for editing, revising, brainstorming, connecting with other writers?
This is when I reframed my writing time as simply "office hours." Do I write during office hours? Of course! I worked on a first draft for the first chapter of my narrative memoir one night this week, can o' wine in hand. It's a container for me to check in with writing communities, which can is possible but distracting during the day when I'm trying to wrangle kids. I can also: work through writing classes, read lit mags, art journal… you get the idea. Having this time blocked out for myself and my work has allowed me to think through the next one to two years at home with young children without having a huge panic attacks.
I'm okay. They're okay. I can still make progress on my own writing goals, even when we're all stuck at home together, all day, every day. I might actually make more progress with more restrictions on my time. I can be a writer and a homeschooling mom. I can take care of my kids needs AND my own needs.
All of this to say: we're all facing vastly different circumstances right now. It's okay if showing up for yourself/ your art feels impossible right now: we're in the middle of pandemic. Survival is key. But, if there's any part of you that feels like maybe making art regularly would help you survive this thing, then I would encourage you to find the blank space for your own office hours. The fun part is deciding what you're going to do in that container of time! Think less about page count and more about tending to your creative spirit. You're going to need it.
---
What I'm Up to in August
#1000wordsofsummer— back for an August edition!
Make Art Where You Are on Creativebug
(Will I keep up with all of these daily challenges? Most likely, no. But I enjoy trying, and any amount of creative time is valuable, even if I don't "win.")
Hanging out in The Well, a new writing community for women with writer Heather Demetrios at the helm. I may have joined for the workbooks.
Finishing up the beta version of Write + Light
What are you working on in August? Hit reply and let me know!