Discover more from The Workbooks
the daily practice of being alive // creativity, art + the writing life
inventing new paint colors | OCTOBER
This is probably not revelatory information, but I have A Thing for children's art books. Some of my favorites are Meri Cherry's Play Make Create, Bar Rucci's Art Workshop for Children, and Collage Workshop for Children by Shannon Merenstein. They're all pretty similar in that they show parents and caregivers how to set up various invitations to make art, like mixing up new paint colors and encouraging the kids to come up with names, or making prints using the bottom of a muffin tin. The prompts are open-ended and encourage creative interpretation. There is no preconceived idea of what the result should look like, the whole point is to just enjoy playing with the materials and see what happens. It's usually referred to as "process art," and having fun, enjoying the experience, and trying new things are all more important than what the thing looks like in the end. (Does this sound like what many adults would call art journaling? Exactly.)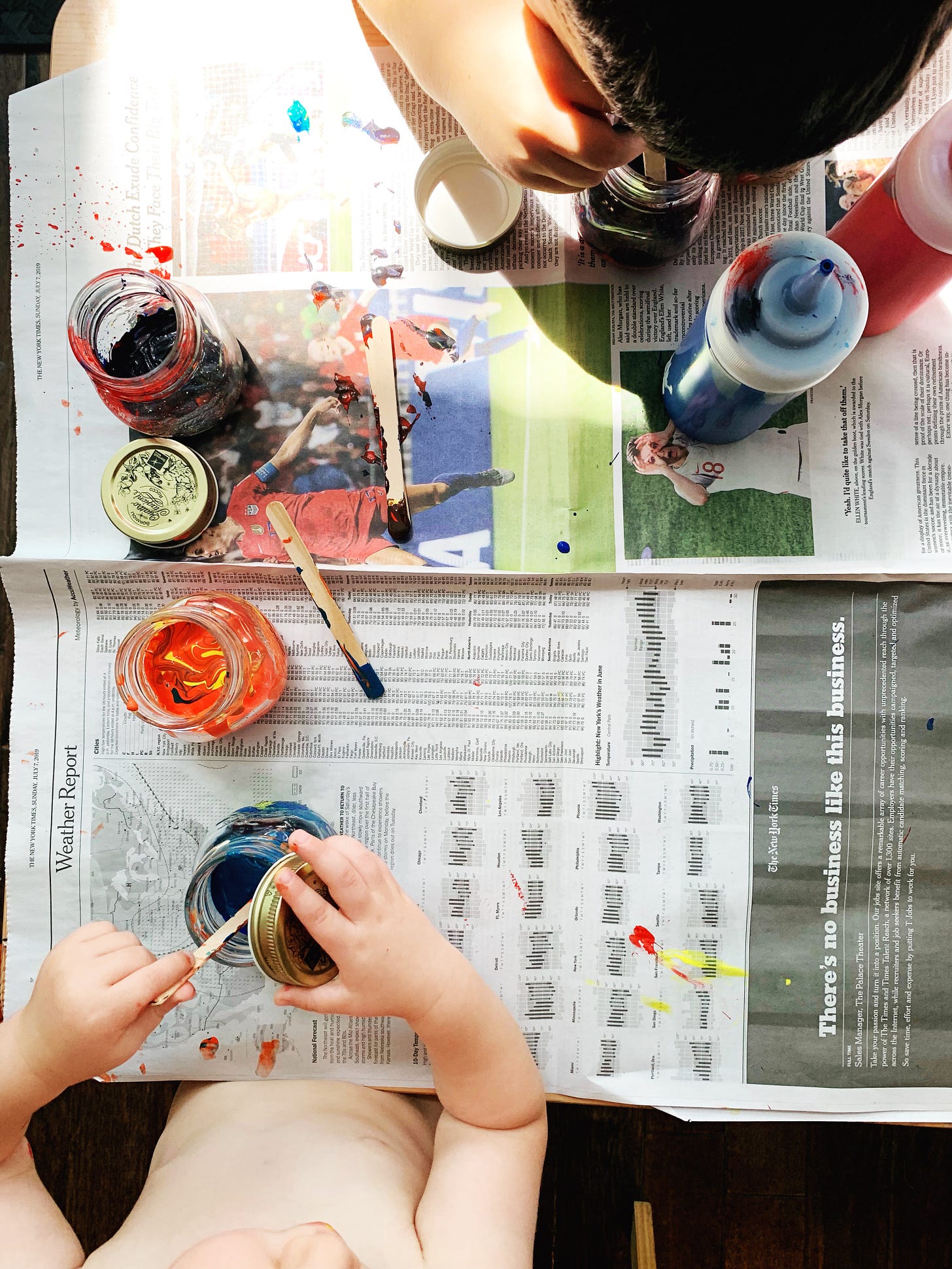 My writing process was on my mind a lot in August, since that's what we were talking about in The Well. Naturally, before I started I thought, "we-ell, I'm not sure I have a process…" Creativity is magic and so who knows how it works! Why does sitting down to write sometimes feel like being wrapped in a cozy blanket and other times like pulling teeth? Where do ideas come from, anyway?
Most days I feel like I spent a lot of my (very limited) free time making things but not actually ~*writing*~. Morning pages are spent whining, or writing down a dream I had the night before, or listing all the things I need to get done that day. I doubt very much that anyone would want to read them, ever (which is good, because that's the point). My Hobonichi pages are fun to make (and look at!) but don't really mean anything or say much about my life other than how tired I was on any given day or if I found time to meditate.
And yet. Every time I've skimped on these practices, I've regretted it. I'll sit down to write and instead of feeling all lit up and in the flow and all that super good stuff, I feel gunked up and cranky. Getting words onto a page then becomes a lot like herding cats, which is to say, impossible. So while sometimes it's tempting for me to think I'm wasting the precious little writing time I have on things that are not and will never be a finished product, without them I really wouldn't have a finished product.
I've been working on a memoir for two years now. It's slow going. I've invested a lot of time and emotional energy into it already, and it's nowhere close to being done. Possibly because when I started working on it, I had no idea what I was doing. I never thought I'd write a book-length anything, because that was for the Real Writers. lolol.
Now I'm in it, and I still really know what I'm doing. But it's okay, because writing is one of those things that you can only really learn by doing. The first scene you write might not be good, but I bet the hundredth one is better. As Elizabeth Gilbert writes in Big Magic: "It's a simple and generous rule of life that whatever you practice, you will improve at."
I don't know if this book will get me an agent, or a book deal. I don't know if it will worth it to self-publish and market it myself. I don't know if this book will be read by anyone other than my nearest and dearest. It's still wholly worthy of my time, even on the days where I spend 45 minutes writing morning pages just so I can write 4 sentences. The creative miracle is in the process of making the thing, not the thing that results.
This is the part of the newsletter where I confess that I have been REALLY BAD at doing the things I know work for me creatively. I'm going to cut myself some slack since we're in the middle of a pandemic and nothing is easy right now, but know that when I say this I mean it as much for myself as for anyone else reading:
Go practice! Have fun, enjoy the experience, and try something new.
---
Watching/ Reading/ Listening
My September playlist, which possibly includes Christian Rock, based on the suggested songs I've been getting for the last week. Listen at your own risk, lest you mess up your carefully curated algorithm as horribly as I have.
I binge-watched High Fidelity on Hulu. I loved it. Zoe Kravitz is *chef's kiss.*
I loved Alden Jones' The Wanting was a Wilderness, a memoir about writing memoir using Cheryl Strayed's Wild as a jumping off point. In particular, I love what Jones said about the urge to revise the past, to rewrite yourself:
It is easer to mock one's youthful concerns that it is to have sympathy for them. Insulting someone is the ultimate act, the basic schoolyard instinct, of Othering: I am not that. In order to write a true story, you must be unrelentingly sympathetic towards the person you truly were at the time of the events. The fallibility of memory makes this difficult, but the effort must be there. (Diaries help. Conversations with people who were there help.) If you impose the belief system and the knowledge you have now on the person that you were many years ago, you are not writing a true story at all.

In order to render sympathy for that person, you must hold them accountable, and you must also forgive them.
---
Making
I don't know if it's the weather or the general state of the world, but I am very into projects that use up scraps. A few weekends ago I tackled an organization project in our office, the room has been a mess more often than not in the almost 2 years that we've lived in this house. Now that my husband is working from home for the foreseeable future, it needed to not be. It's a shared space but to be completely honest, it was mostly my crap that was piled and stacked everywhere, which is how I found myself face-to-face with a small mountain of fabric and yarn. (Note that I don't actually work in this room. About a year ago I set up a desk in our sunroom, because it has the best light. Also, exposed brick.)
I've never been a "stasher" and typically buy with a specific project in mind but… things accumulate. Especially in my late 20s when we had a few indie fabric stores in Austin (they are, sadly, all closed now) I accumulated more than I should have, I think. I don't have room to keep this stuff forever, so while I couldn't bring myself to donate it to the local creative reuse, I realized I needed to find a way to use it up.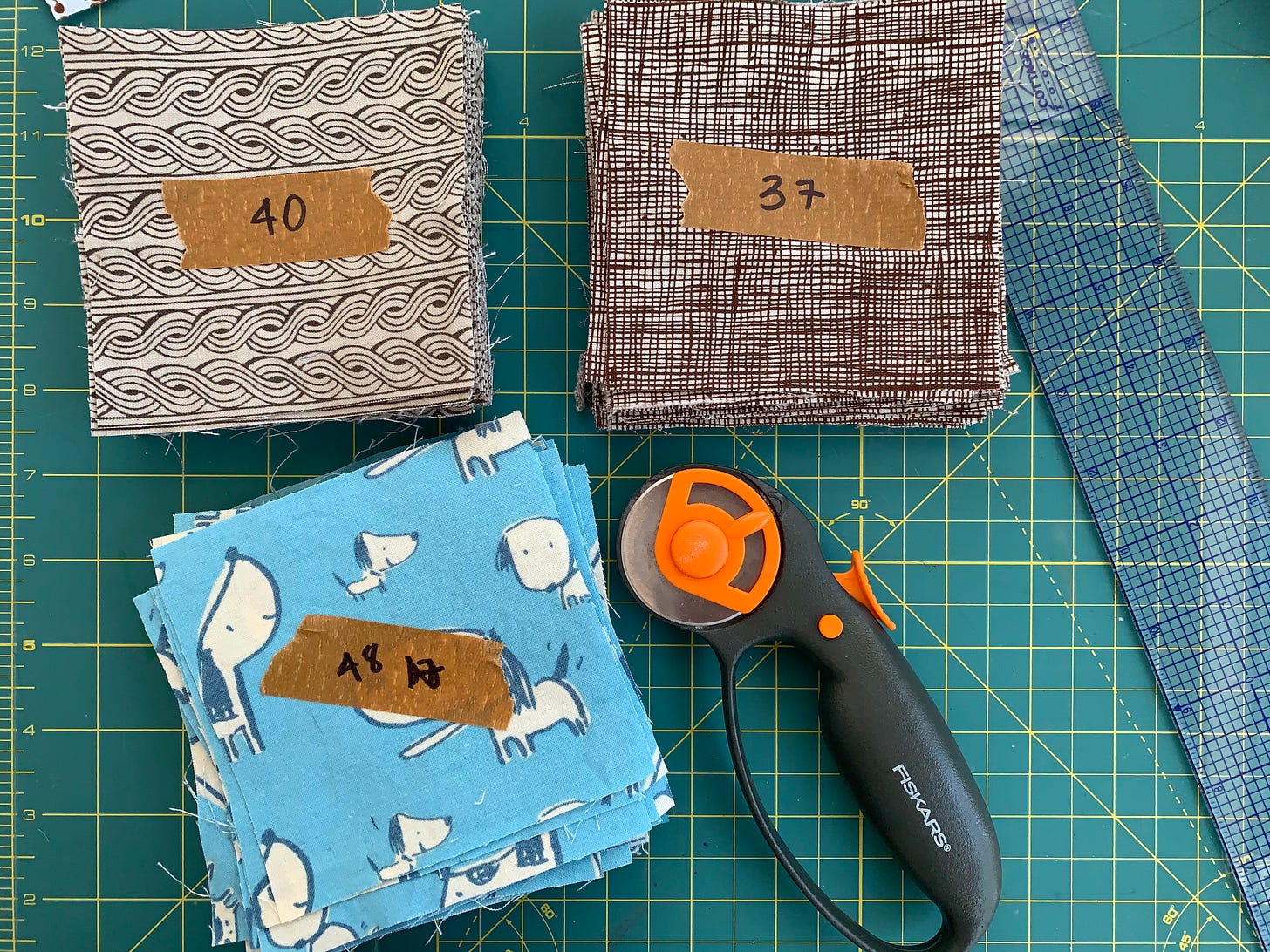 I really liked the idea of making a quilt, especially since my kids are a little obsessed with blankets. I went searching for a simple patchwork quilt pattern and remember Alicia Paulson's Calicozy pattern, which turned out to be exactly what I was looking for (it uses an IKEA comforter as the batting and is hand-quilted). I think I have enough fabric for like 6 of these. It's nice to take a few fabric scraps and zone out for a bit while cutting them up into neat little squares.
For my yarn stash, I'm eyeing The Beekeeper's Quilt (although I don't think I have enough sock yarn scraps to complete a whole quilt) and Penguono (and the mini version, Pengweeno!). I also love the Heirloom blanket.
---
October Things to Do
My goals have all been epic fails lately, in that I have not completed a single thing I've set out to do. (I've also been starting, and then not finishing, a lot of books.) So I'm not going to set specific goals for October, since I very clearly need to reevaluate a few things!
Here's what I'll at least be dabbling in:
Enchantment over on The Well (a really terrific community if you are seeking support around your writing practice; affl. link)
Continuing Platform Sparkle with Writerly Love
Likely continuing my annual rabbit hole into planners— I'm currently obsessed with Filofaxes and the whole minimalist aesthetic (one rando example). Already on my shopping list are the daily and weekly notebooks from Wonderland 222, as well as The Annual from Alter Planning Co. (a Black owned business, should you be looking for BIPOC businesses to support in that area).
The Creativebug daily practice class this month looks fun— 31 Creative Prompts from Modern and Contemporary Artists.
---
Thanks for reading. If you have a friend who would enjoy regular essays on creativity, art, and writing, please forward this along. If you're seeing this for the first time, you can subscribe here. For more, follow along on Instagram @theworkbooks.