How to fill a notebook
My daily journaling routine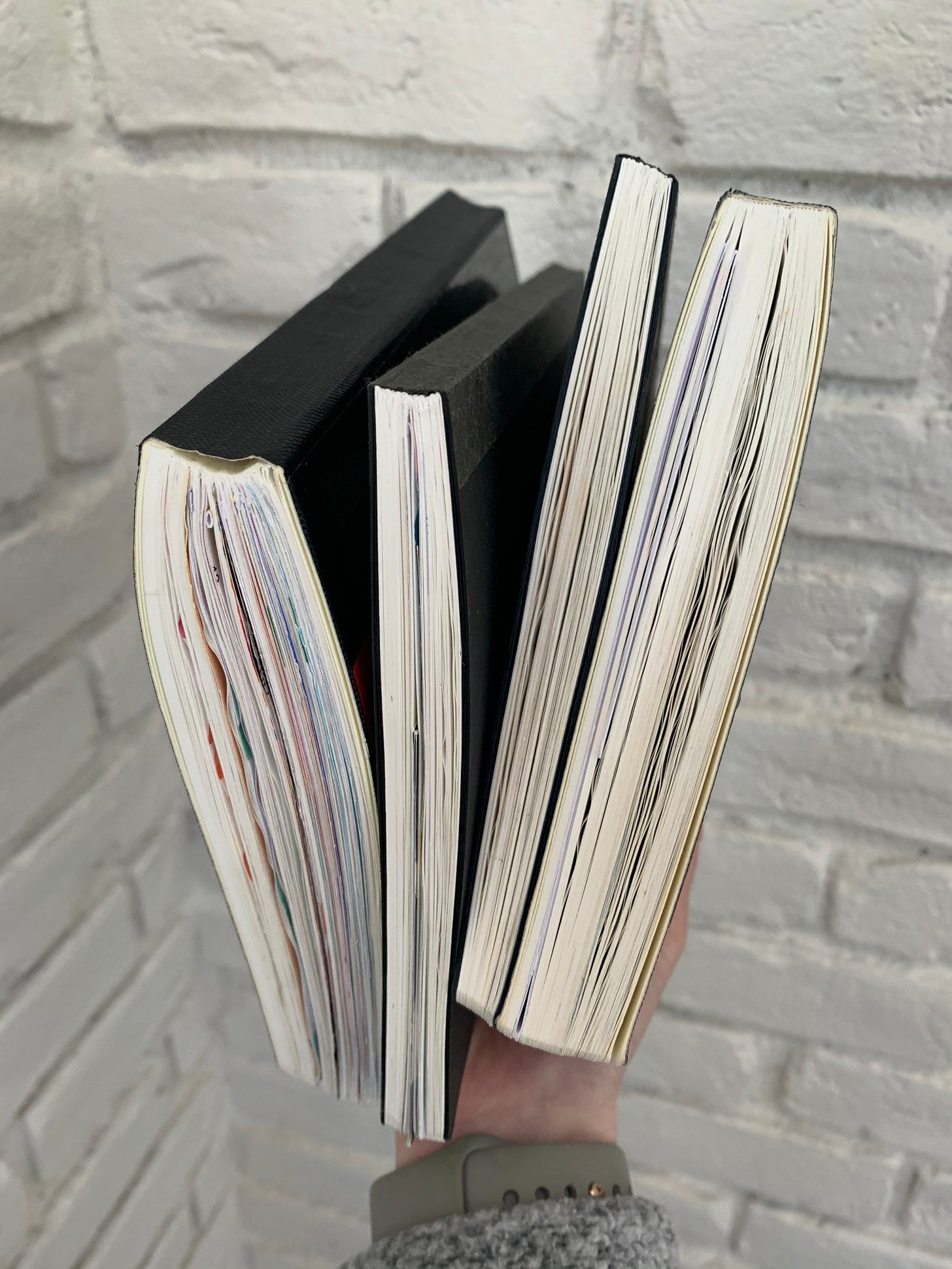 I started my first journal the summer I turned 11. I turn 36 this year, so that's a long time. A quarter century of writing that I've shared with pretty much no one! It's a little insane.
My journal is the thing all of my creative work is built on, so I thought I would share my (current) daily journaling routine. I'm pretty happy with where things are right now, but I'm always tweaking things. If anything, I want to journal more.
My journaling practice has (thankfully) evolved since I first started. There have been times when I've written less than others. I've been more consistent the last few years, as I've really seen how showing up to the page every day helps me manage my mental health and provides structure to my days.
If what I do seems like a lot, keep in mind that I've slowly built this routine over time, and a lot of it I do without really thinking about it. I probably spend about 30-45 minutes working in my journal, and it is critical to my self-care. It's always very obvious to me (and probably to the people close to me!) when I'm neglecting my notebook.
Here's a run through of my routine.
Every morning, when I sit down at my desk, I read that day's entry from Simple Abundance. This is daily devotional style book that pairs well with the lessons from The Artist's Way. Sometimes I don't connect with the essay, but most of the time, I do.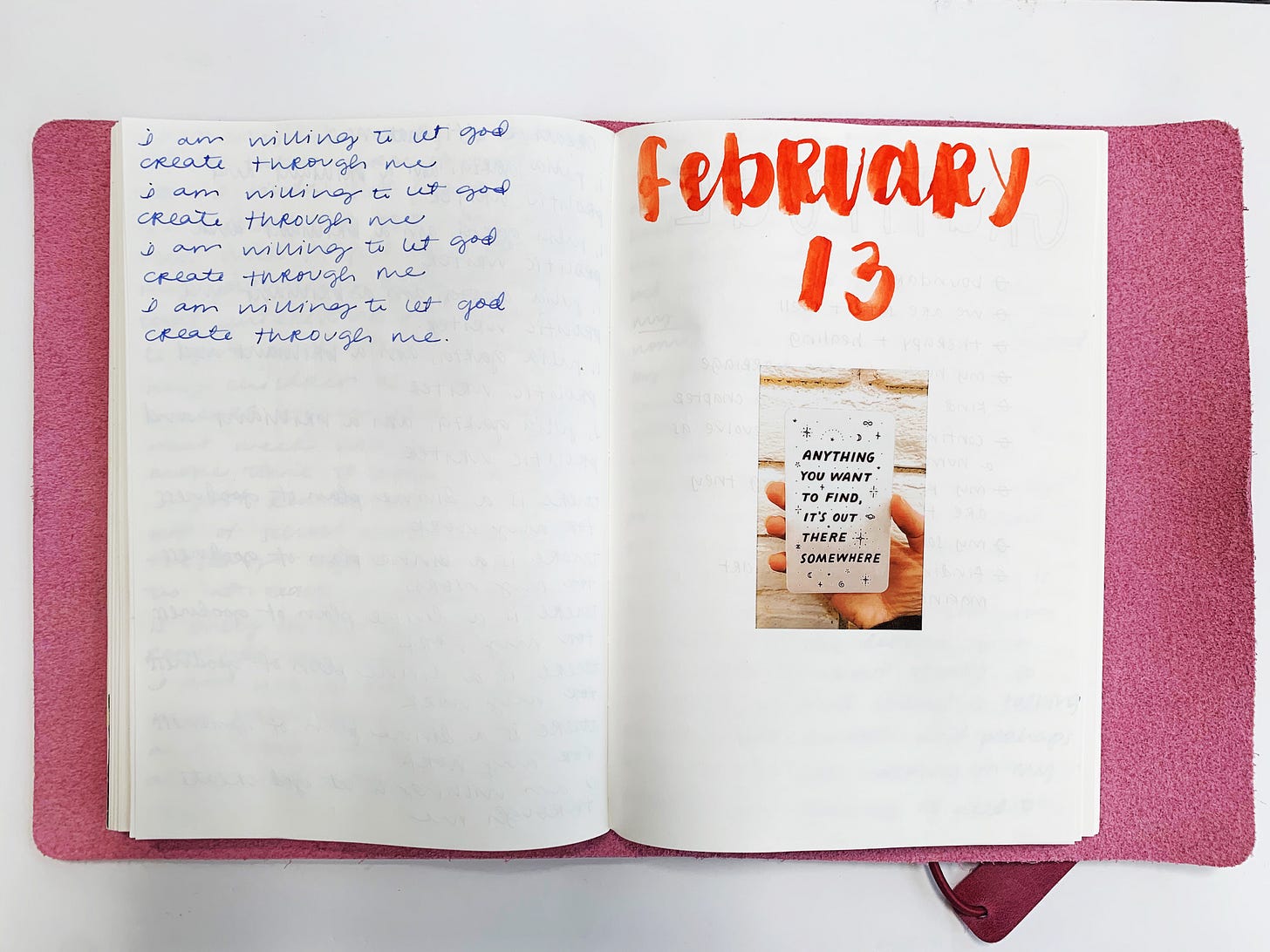 part of my creative affirmations from the day before, and yesterday's beginning page
Next, I pull a card. I've been using the Inquire Within deck from Worthwhile Paper since last summer. I know many people pull a tarot card daily; that doesn't really speak to me. But I really like this deck, which is 52 cards to "inspire inner wisdom, growth, and connectedness." I have my eye on the Inner Compass cards for when I'm bored with this deck. The card generally speaks to something that's already on my mind, or serves as a gentle reminder to pay attention to something. I take a photo of the card and print it using my HP Sprocket printer. The film has a sticky back, and I stick it on whatever my first page is going to be for that day's entry. Later, I will go back and brush letter the date on top of the page using a water pen and watercolors. (I usually leave this part until the end, since I then have to wait for the paint to dry before closing my notebook/ turning the page.)
These two practices help get me focused on my inner work.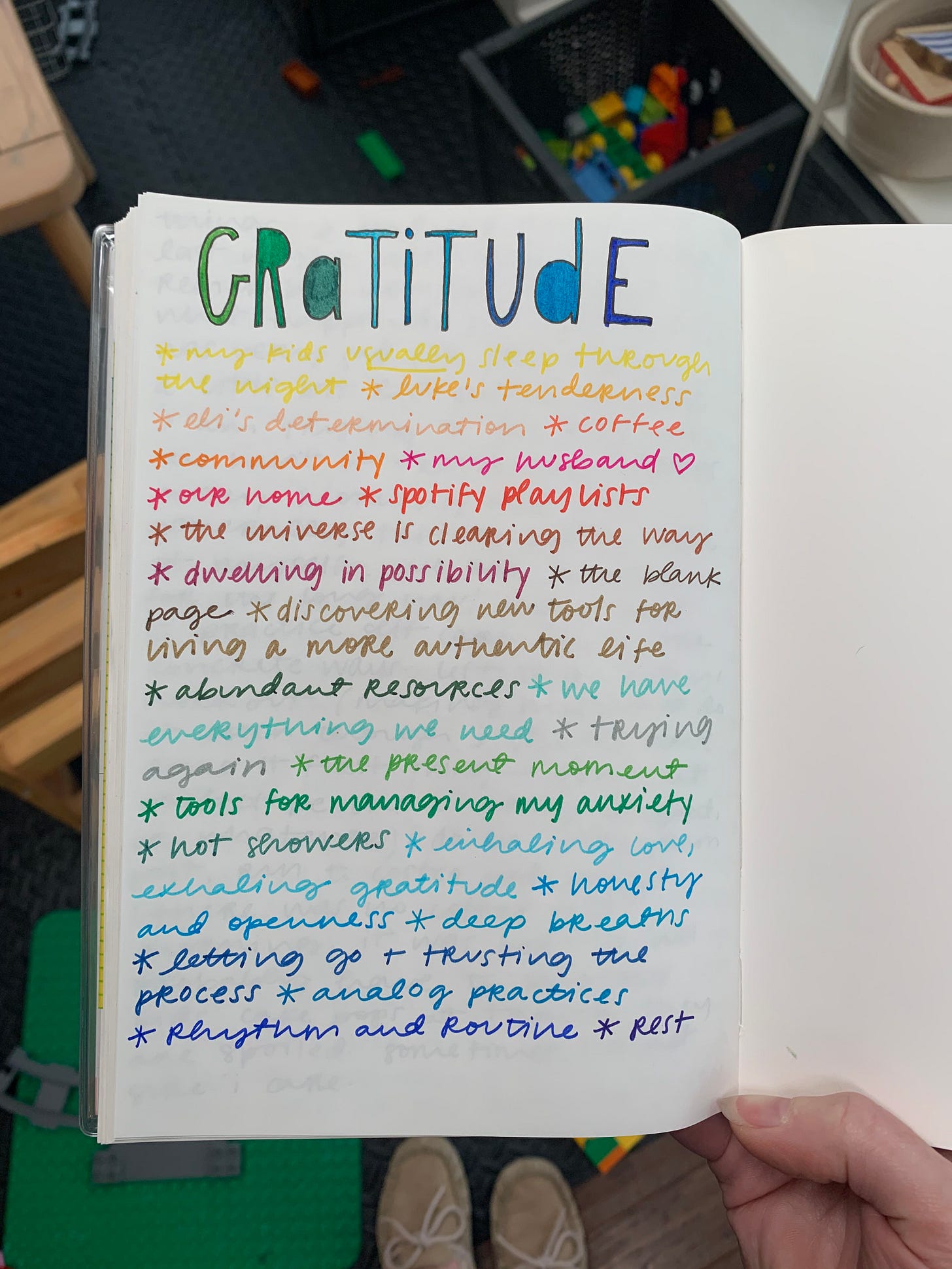 Next, I usually do my daily gratitude list. This is a practice I started working with after doing Tammi Salas' Proof of Life class last summer, although it was something I wanted to incorporate for longer than that. Tammi has a really neat way of doing gratitude lists and I'd encourage you to check out her feed. Writing a daily gratitude list is also one of the tools that Sarah Ban Breathnach encourages the use of in Simple Abundance.
Then, I move into my morning pages. This is three pages, written longhand, of stream of consciousness, per Julia Cameron and The Artist's Way. It's not supposed to be pretty or even have to make sense. It's just a way to get all the crap out to get to the other side. In The Artist's Way, Cameron mentions that writers often have a hard time with morning pages because of the fact that they are not "good." I've never had a hard time writing them because they are pretty similar to how I've always written in a journal— whatever comes up, with no regard for style. The main difference is that I do push myself to three pages, where before I might have stopped long before then, and I do make an effort to write daily (which is how often I need to be doing them, anyway).
This week, I've added affirmations into my daily pages. This is a task from the second week of The Artist's Way, but I do like working with affirmations and think I am going to keep this as part of my routine even after I move into the next week of the book.
Often, after this, I move on to doing an art journal page. I'd like to be more consistent with this, too, because after I play with paper for a bit, I am creatively fired up. It's rare that I feel anything resembling writer's block after allowing myself to play in my journals.
I generally don't share my journals in full with anyone. My husband has read through some of my older notebooks with me, but that's about it. It's less about the fact that they contain deep dark secrets and more about the fact that are probably spectacularly boring. (My journals from high school and college are much more entertaining as far as salacious details!)
I try not to be too precious about any of this. At it's core, it's a way of record keeping and warming up. On days that I skip my journaling routine (specifically the morning pages), I find it very difficult to get anything down without my inner critic jumping up and down and shouting about how stupid and pointless all of this is.
That said, these days I am pretty neurotic about my tools for this practice and when something is off, it just doesn't work. I like an A5-sized notebook with Tomoe River paper. A Leuchtturm 1917 would also be acceptable (I'm currently using one as a bullet journal and have used them as my daily journal in the past). I've recently started using a Lamy fountain pen, although previously I used a Sharpie fine point pen. For some people, the tools don't matter at all and I think that's awesome. Use what you have, what you love, what you have access to. Not having a fancy notebook shouldn't keep you from a daily practice.
My journals are invaluable because they are often the raw material for whatever I write about. When I started working on my memoir a couple of years ago, I pulled extensively from my journals. They often provide details and contexts and a clearer timeline, and sometimes reminders of events I had forgotten about, until I read my own notes.
In that process, I've also often been annoyed at myself for what I didn't write down. I think that's one of my main motivations behind being more consistent with daily journaling at this point in my life. Baring anything tragic, you simply don't know you're in the middle of a story until it's all over. Although right now I'd tell you there's not much going on in my life that's worthy of shaping into an essay or a book, five years from now I might have a completely different perspective. In college I didn't have any clue I'd one day be shaping that experience into a manuscript (obviously, or I'd like to think I would have taken better notes, and perhaps been tape recording conversations…), but here we are! Basically, you never know. Better to take good notes.
For more inspiration, I suggest taking a look at:
Tammi Salas | My Gratitude List Practice

Esme Wang | How to Create Your Perfect(ly Imperfect) Morning Routine
---
Listening & Reading
This episode of Wild Words got me thinking about the point of entry for my memoir project
Danica wrote about the cycles of build, rupture, rebuild in a writer's life and her thoughts of productivity and self-worth really hit home for me
"Now that you have spent enough hours procrastinating and looking for the perfect tools, you need to carry these items with you at all time… the weight of those writing instruments in your bag will remind you of your purpose - to write." Carrianne Leung on 70 things she's learned so far as a writer.
Apparently, not everyone has an internal monologue. My mind is blown.
I started reading Know My Name by Chanel Miller and wow. She is an incredibly gifted writer.
---
This week…
was not my most productive. Lots of stuff going on with my kiddos, not a lot of time at my desk. But I did get a chapter of my memoir revised. I shared it with my workshop group and sent to a writing mentor for a critique, so I feel good about that.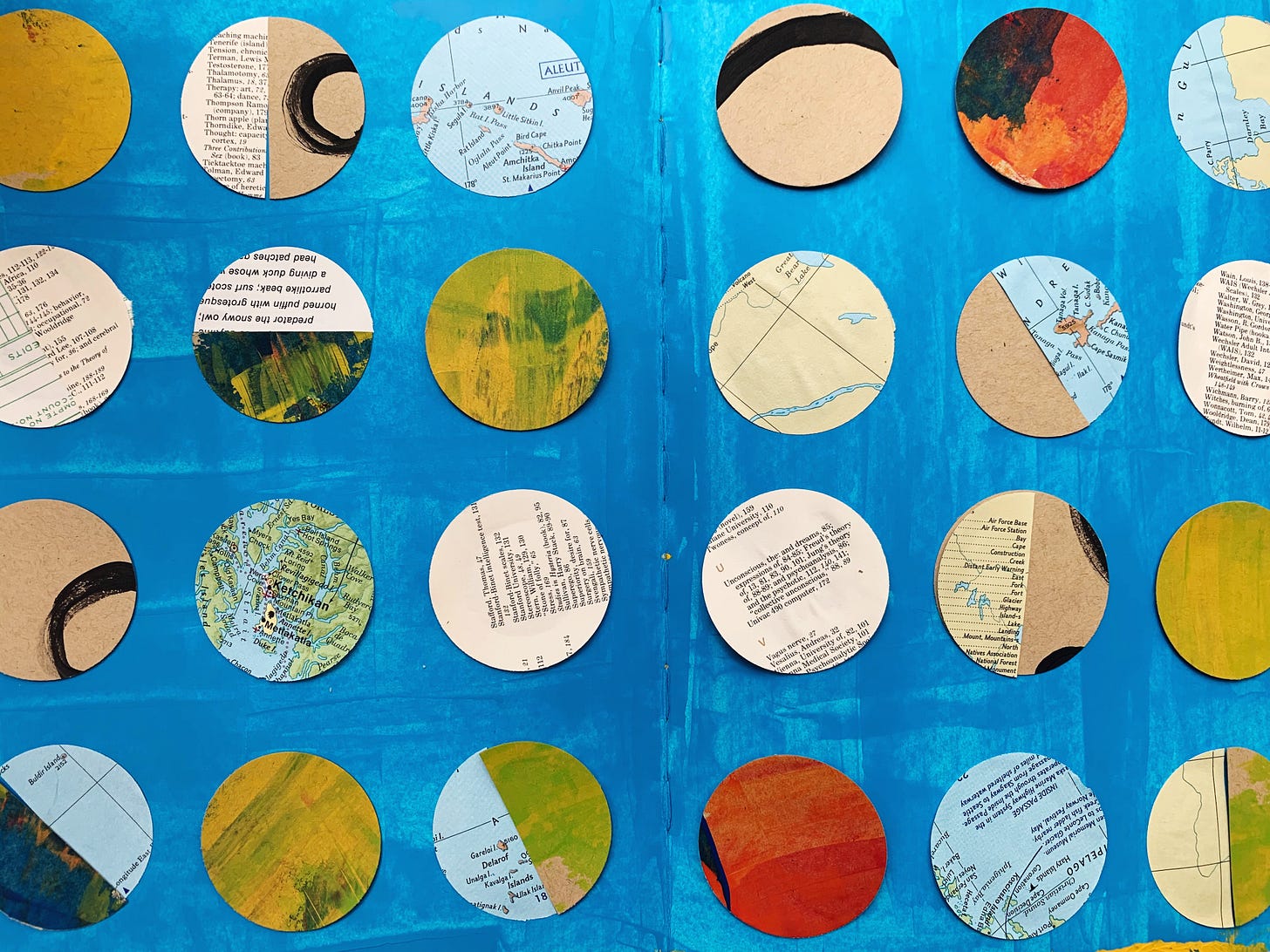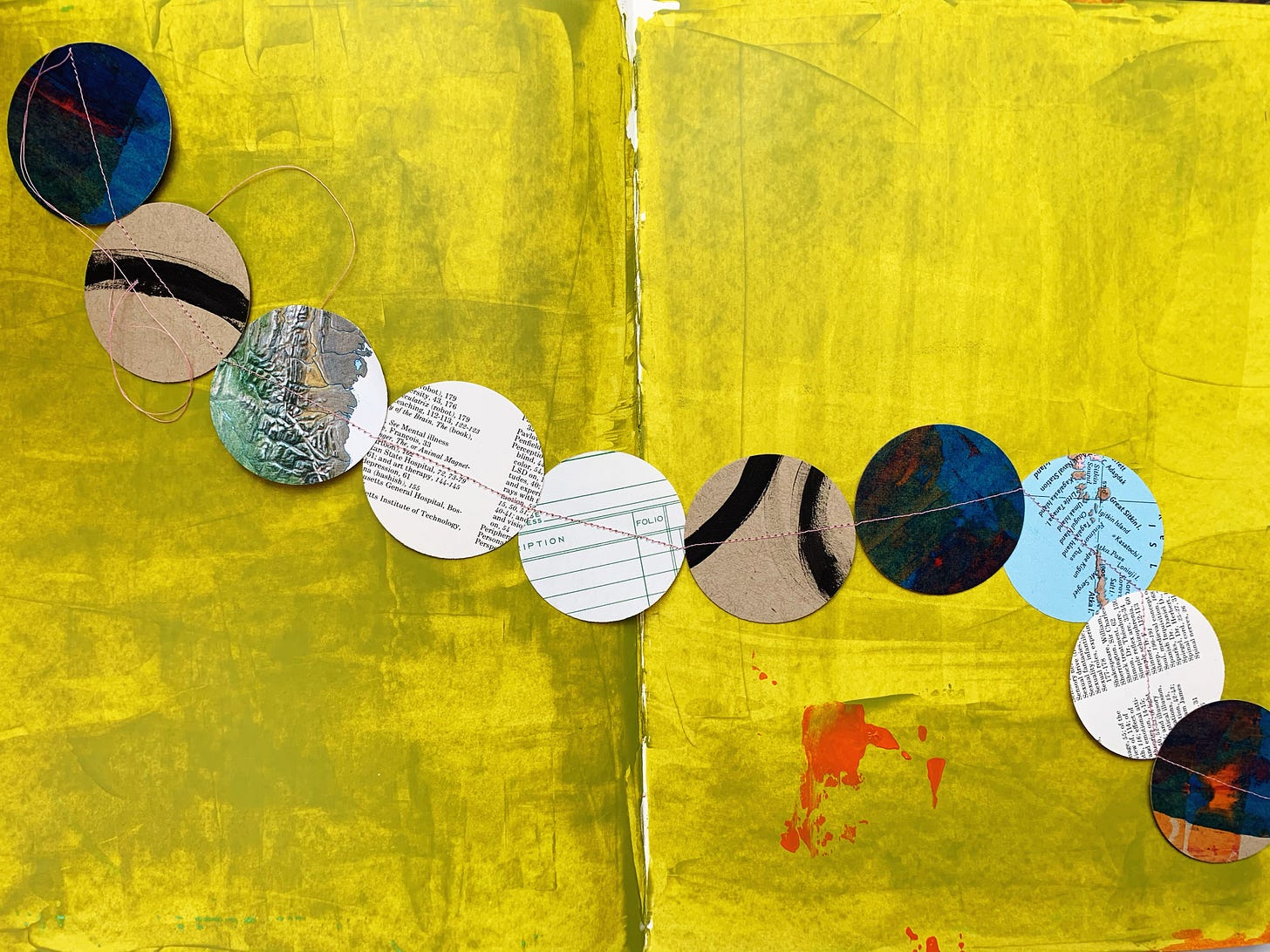 Still playing along with the prompts from Personal Map Making with e bond. Really enjoying this class!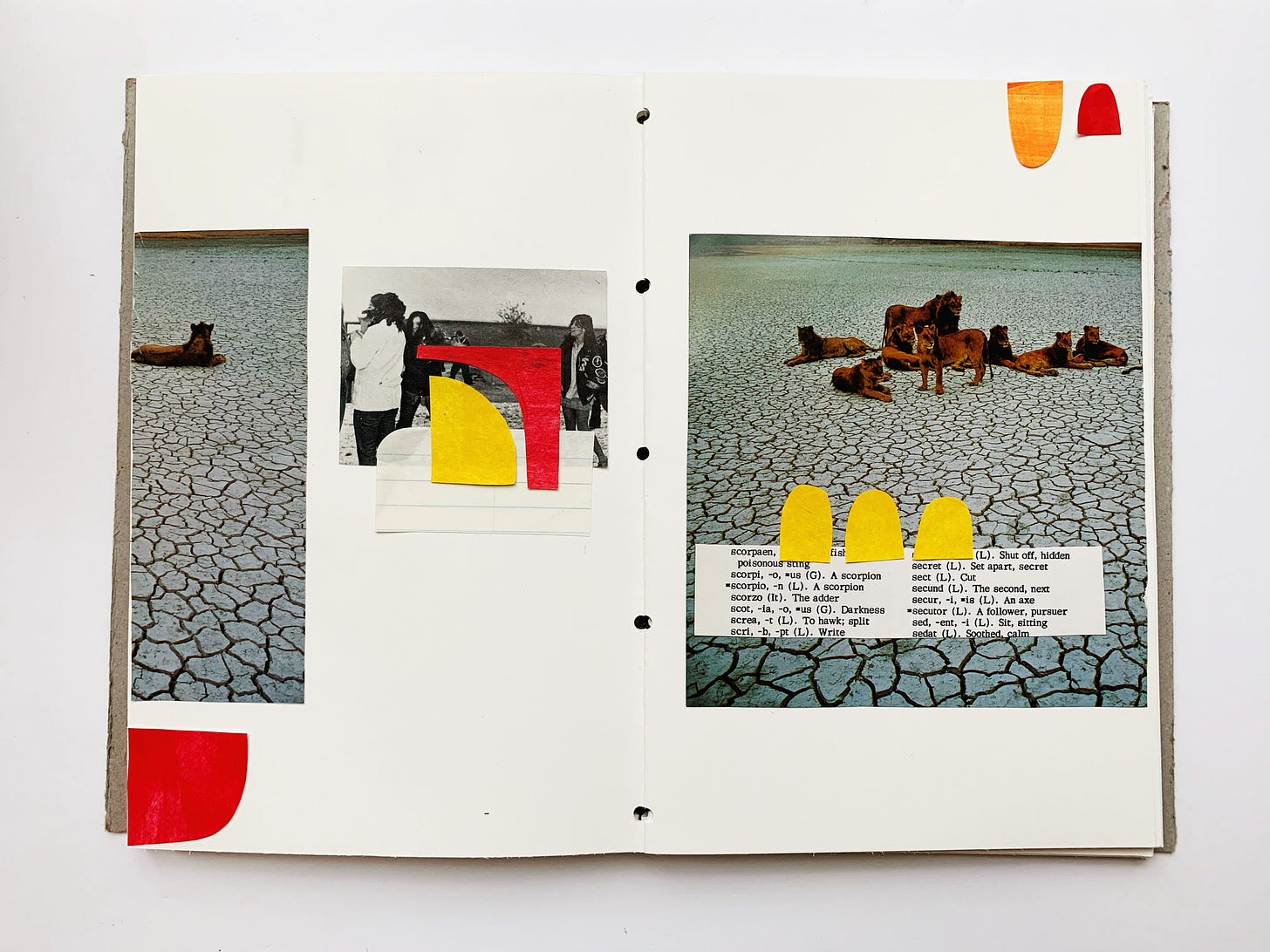 My collage this week for the Get Messy collage club. We're using a book of National Geographic photographs. I had no real inspiration for this page, but I had fun making it.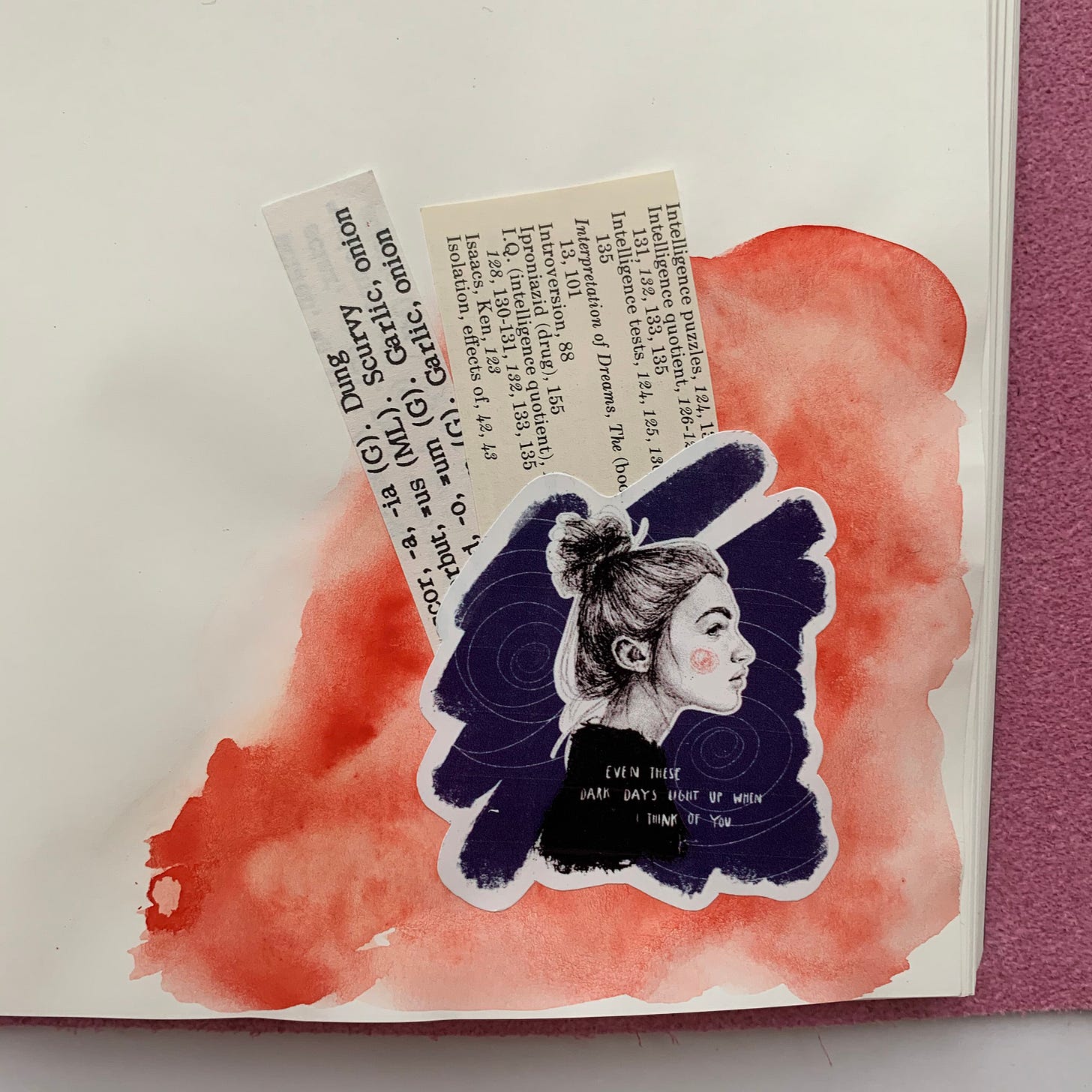 A sticker from Somebody's Art on my morning pages. Have any favorite sticker shops? I'm always looking for new ones.
---
Substack added a new feature last week that I'm super pumped about! Comments are now available for non-subscription publications like this one, which means this platform is probably about as close as anything's going to get to my beloved livejournal circa the early oughts. I've gotten a few e-mail responses to past newsletters, which I love, but I'm glad there's now a space to build a community, too! Pop down to the comments and let me know what your current journaling routine is like.
---
Thanks for reading. If you have a friend who would enjoy weekly essays on creativity, art, and writing, please forward this along. If you're seeing this for the first time, you can subscribe here. For more, follow along on Instagram @theworkbooks.