expectations vs. reality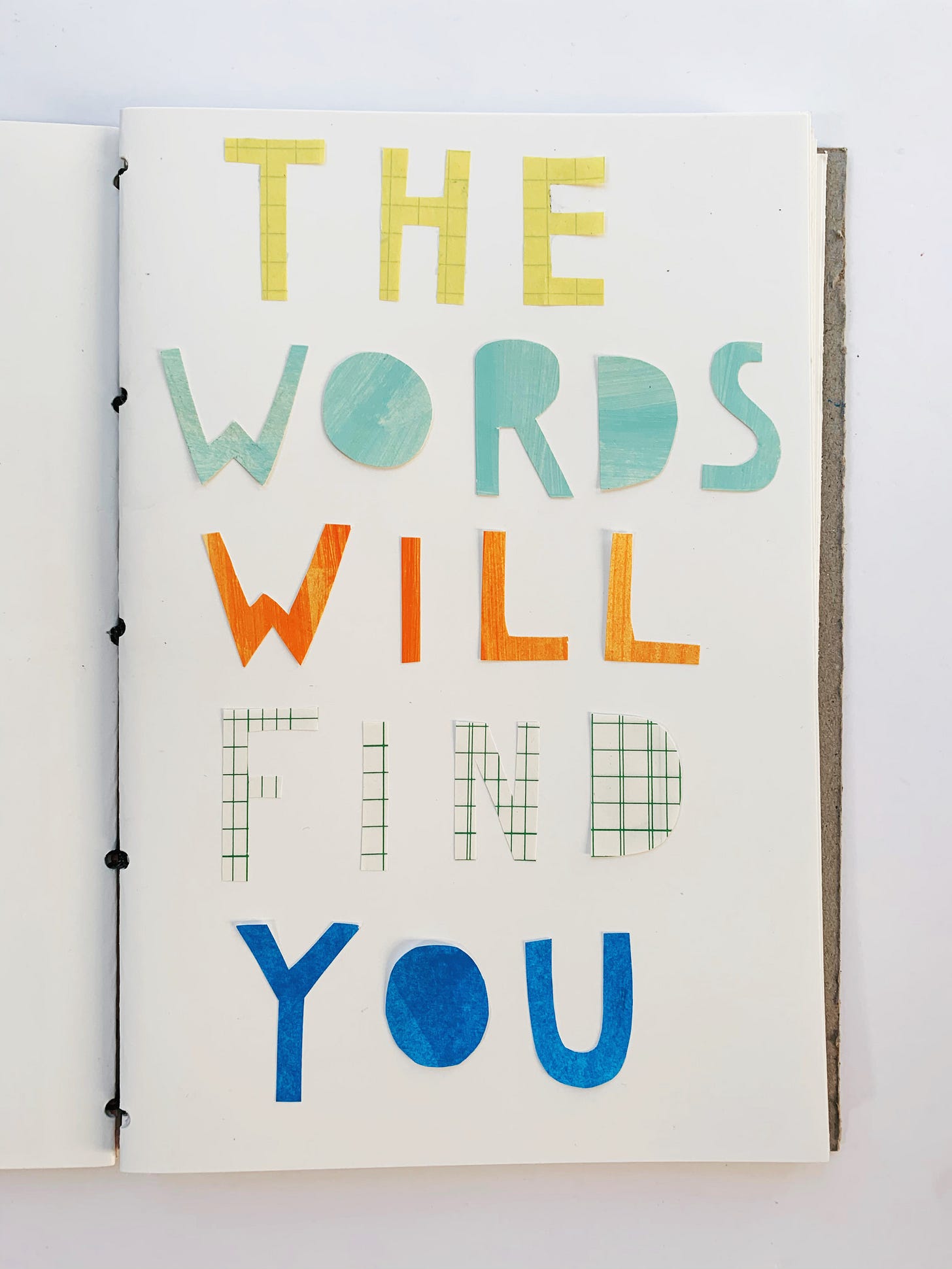 In my fantasy world, I would wake up every morning feeling rested and ready to go. I would get my children off to school happily and with ease. Then I would float out to my backyard studio, a lovely "she-shed" where the light slants through the windows at exactly the right angle regardless of the time of day. An elf would have set up my desk for me, laying out my notebook, my favorite writing implements, and a fresh coffee. A Scottish Fold kitten would be sleeping in a basket on my desk, and John Mayer would sit in the corner, strumming his guitar and occasionally supplying me with words I don't know but would somehow be perfect for whatever I was working on. I would work until the words ran out, which would always coincide with the time I need to leave the house for school pick up.
Since we're all adults here I don't have to tell you how far off from the truth this is, especially the John Mayer part (a girl can dream). I've probably had 10 mornings in the last 7 years where I haven't woken up desperately needing coffee in order to function. Sometimes getting my kids off to school is the hardest part of my day. I do write in a room with great light, but it's technically my kids' playroom. I write at a desk shoved into one corner, and the desk itself is often a disaster, with stacks of books and scraps of paper. I can never find the right pen. If I want another coffee I have to make it myself. I settle for streaming John on Spotify. School dismissal always comes too soon. #reallife, or whatever.
I've been known to lurk /relationships when I need a mindless activity (read: when I'm avoiding the laundry). I am endlessly fascinated by the lives of other people and, well, sometimes its a good reminder of just how good I have it. Recently there was a post from a published author; she'd had some early career success, but taken a step back to deal with her personal life. Now she's making barely any money, while her partner's family recently came into money and is subsidizing his lifestyle (and hers, by extension). She was frustrated with having to ask her boyfriend to Venmo her $10 so she could go buy a sandwich at the deli, it was leading to resentment, etc. etc. Many people suggested the obvious solution— get a part-time job. But! She didn't want to do that, because she'd recently gotten a book deal and wanted to devote all of her time to writing, because she felt this book deal could be a game changer for her.
If I were inclined to leave Reddit comments, I would have noted that a part-time job would actually add value to her writing life, rather than being a detraction. Life expands to fill the time you give it; she'd probably get just as much writing done, if not more, working around a part-time job than if she continues to be (technically) unemployed. Personally, I've never gotten much writing done in time periods where I had few demands on my time (looking at you, undergrad). I did, however, manage to bang out the (very shitty) first draft of my memoir when my second child was 8 months old. I had no regular child care and he was a horrific sleeper who had no nap schedule until he was close to 10 months old, and yet. Sometimes the biggest work occurs in the time you think you don't have.
It's a delicate balance, for sure, but there's something to be said for looking at a writing or art practice holistically— much like Julia Cameron advocates for artist dates as a way of filling the well, giving you something to make art from. Living the rest of your life— which probably includes work, paid or unpaid— is part of filling the well. Your artist cannot live in solitary confinement.
Currently I'm in the middle of the slow, tedious process of revising my memoir. It's a whole lot less fun than banging out a shitty first draft, whose only job is to exist. The next draft has to work, and making it work feels, at times, overwhelming and maybe also impossible. There's a tension between my inner and outer life; how do I write to my 20-year-old self, while still being the present 35-year-old mother to my children? It's tempting to think that if I could avoid all distractions I could have a solid draft in three months, but I have small children and household to try to keep together. I have no choice but to keep doing all of the things that sometimes feel like distractions: taking my kids to the dentist, having an existential crisis over laundry, going to Target for the third time in a single week. In between, I make time to play: art journal classes, artist dates, physical and digital cutting and pasting. In sum, this is a life.
It's harder to quantify (I can't tell you how many hours I spent working this week), but I am making progress. Sometimes it's finding an hour or two to stare at a blinking cursor, sometimes it's figuring out how to make a sentence work by tapping it out on my phone while sitting at a red light.
Life expands to fit the time available; if you're looking for them, the words will find you no matter what you're doing.
---
This week…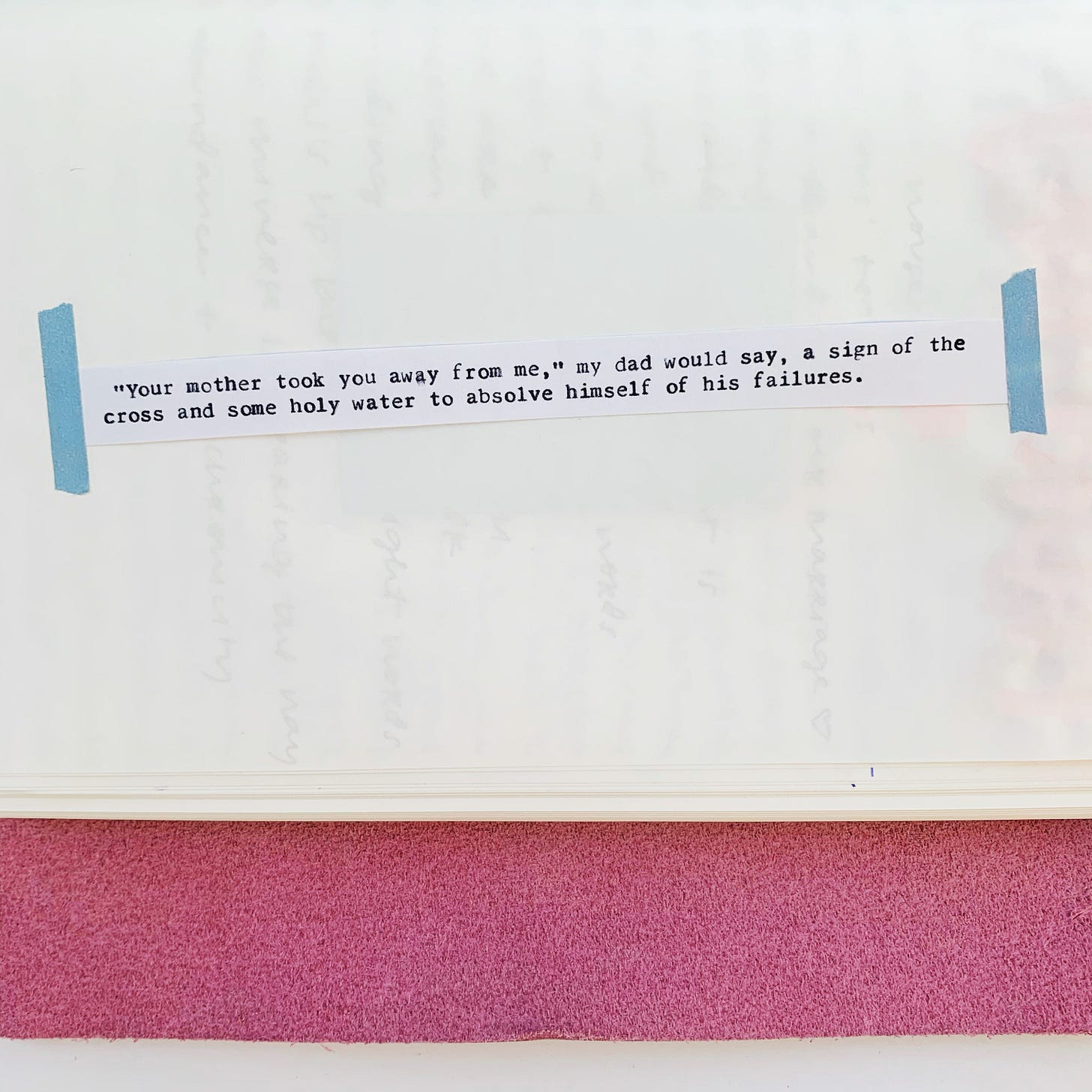 Reminding myself that it's one word, one sentence, one paragraph at a time.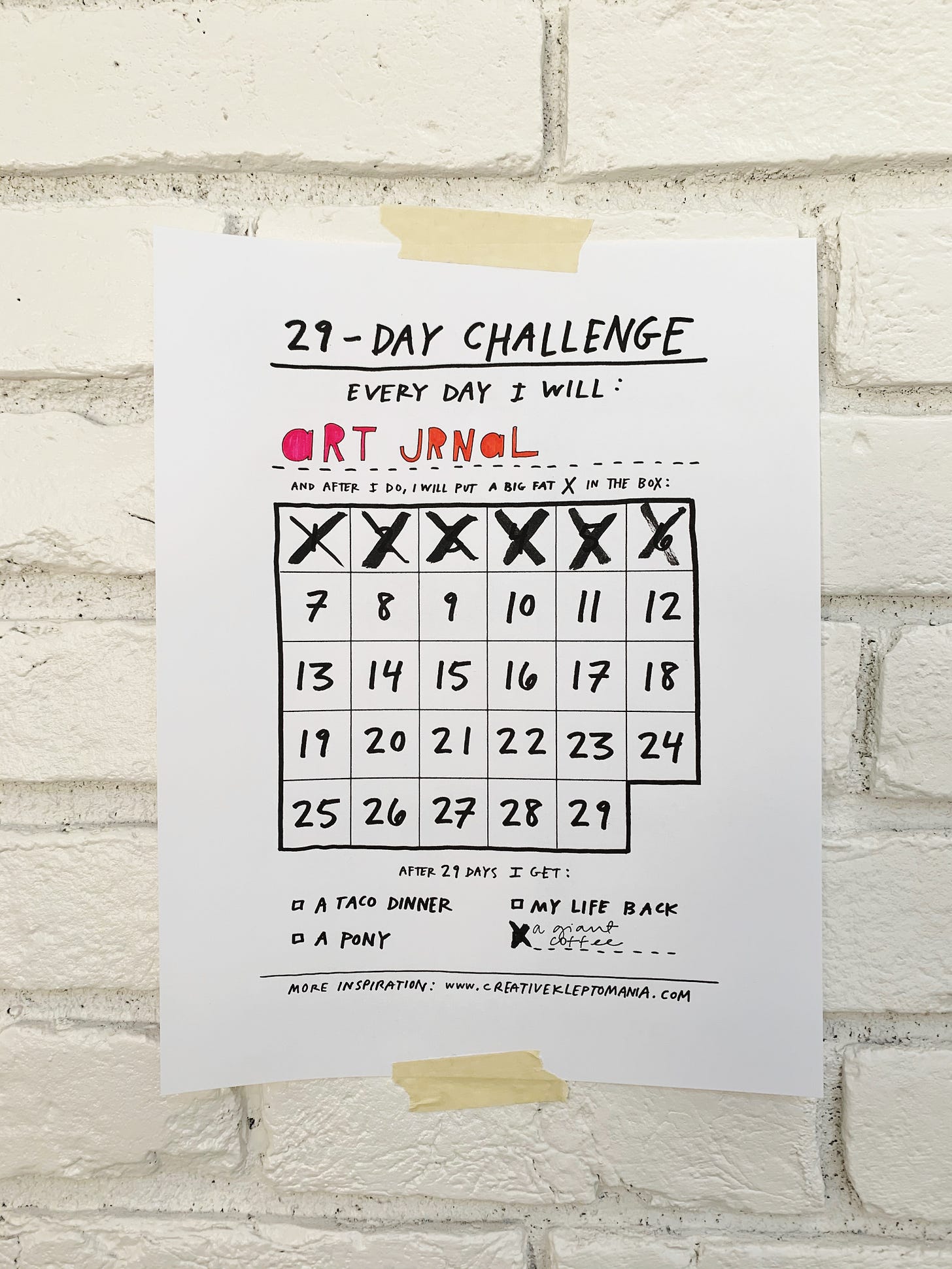 Making progress on the 29-day challenge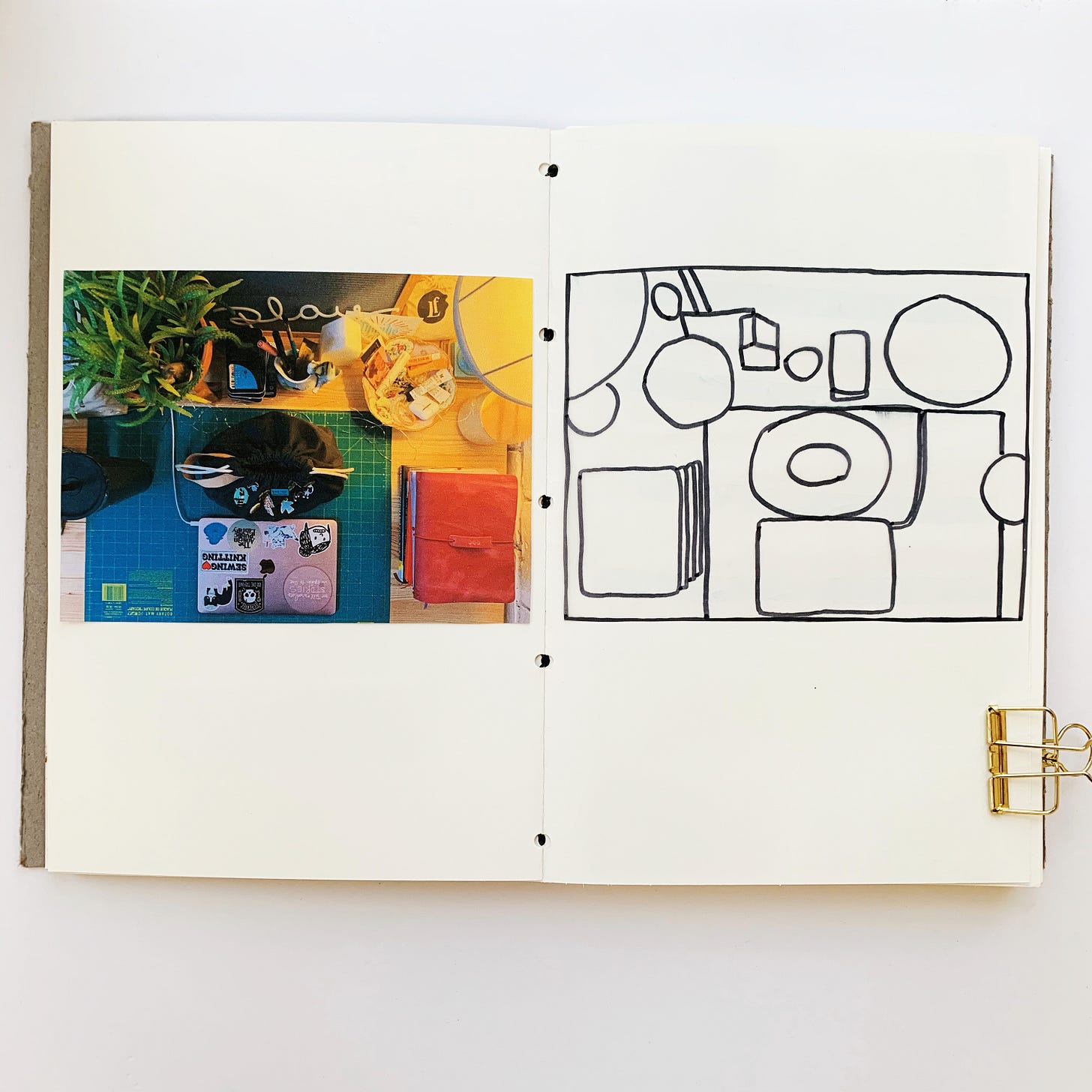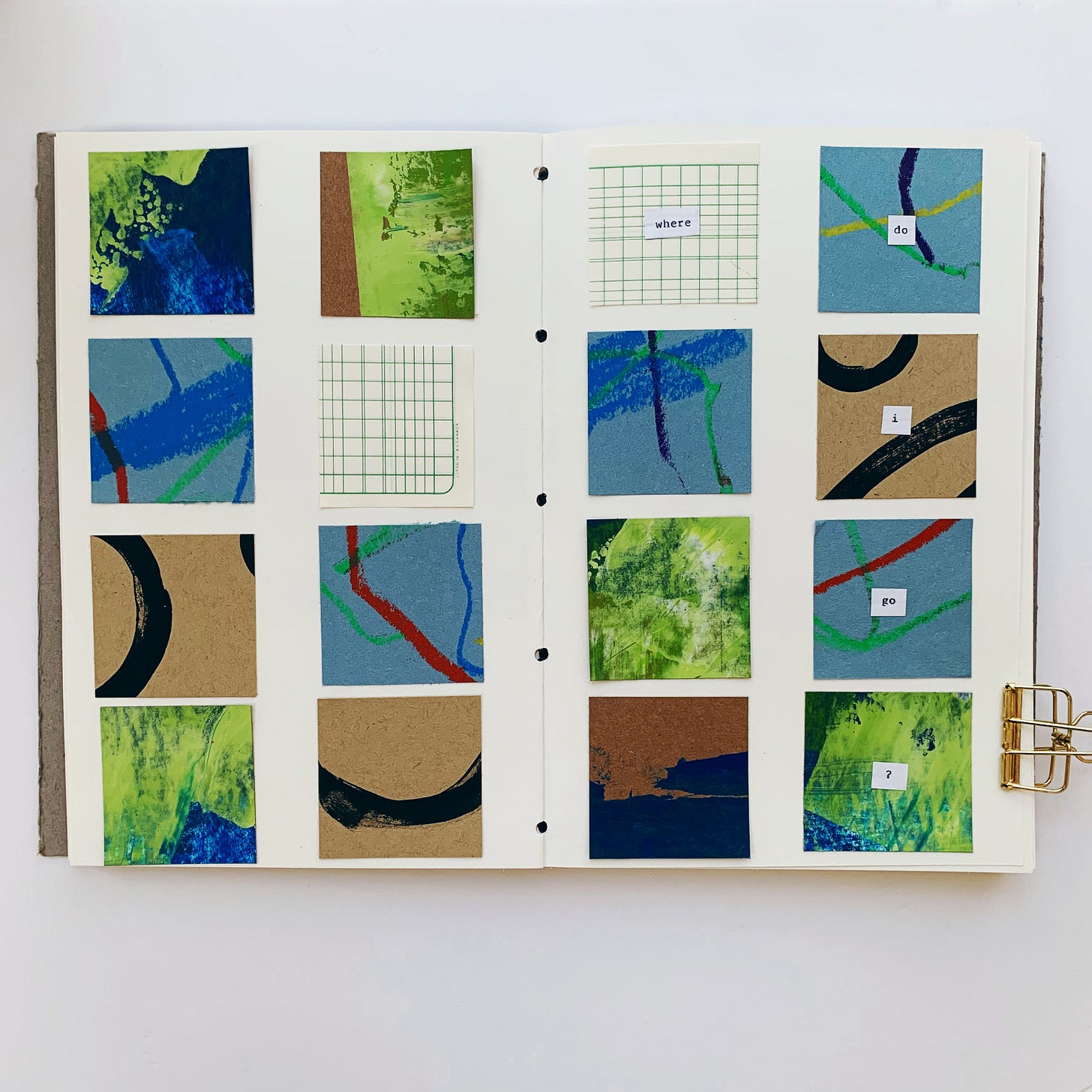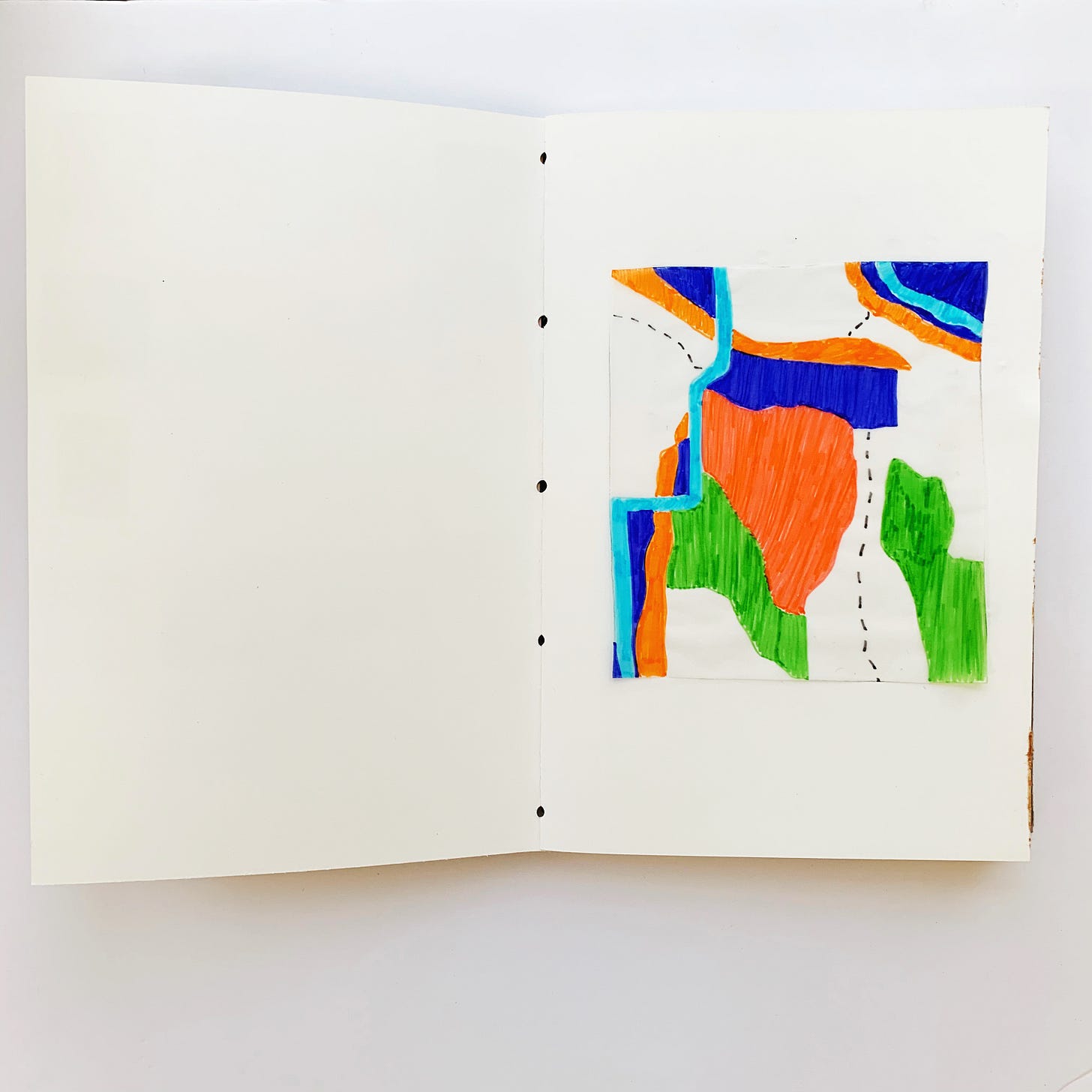 Digging into a new Creative Bug class — Personal Map Making with e bond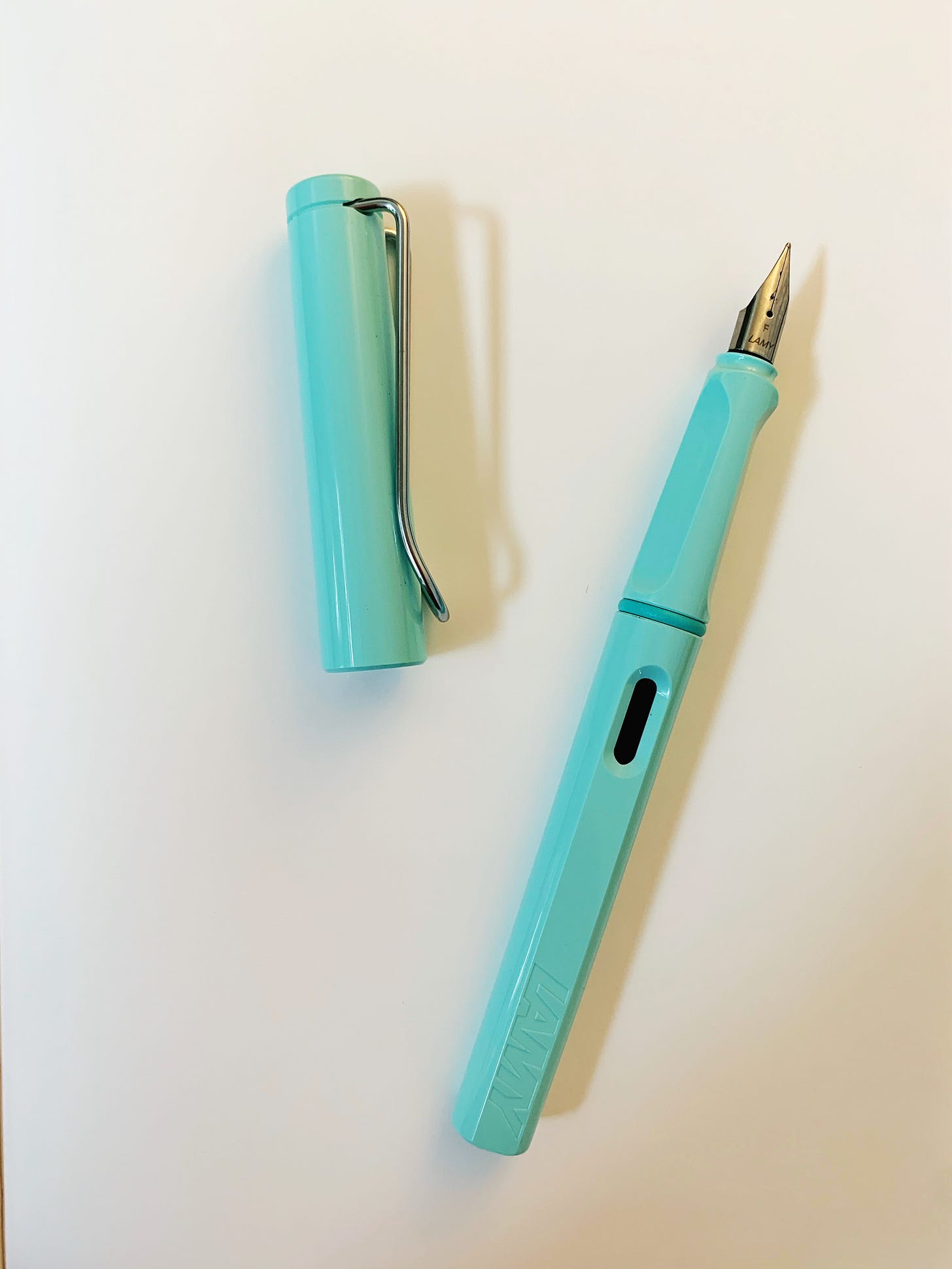 Making friends with my fountain pen
---
Thanks for reading. If you have a friend who would enjoy weekly essays on creativity, art, and writing, please forward this along. If you're seeing this for the first time, you can subscribe here. For more, follow along on Instagram @theworkbooks.
---