Creativity in the Time of Corona Virus
what's the secret?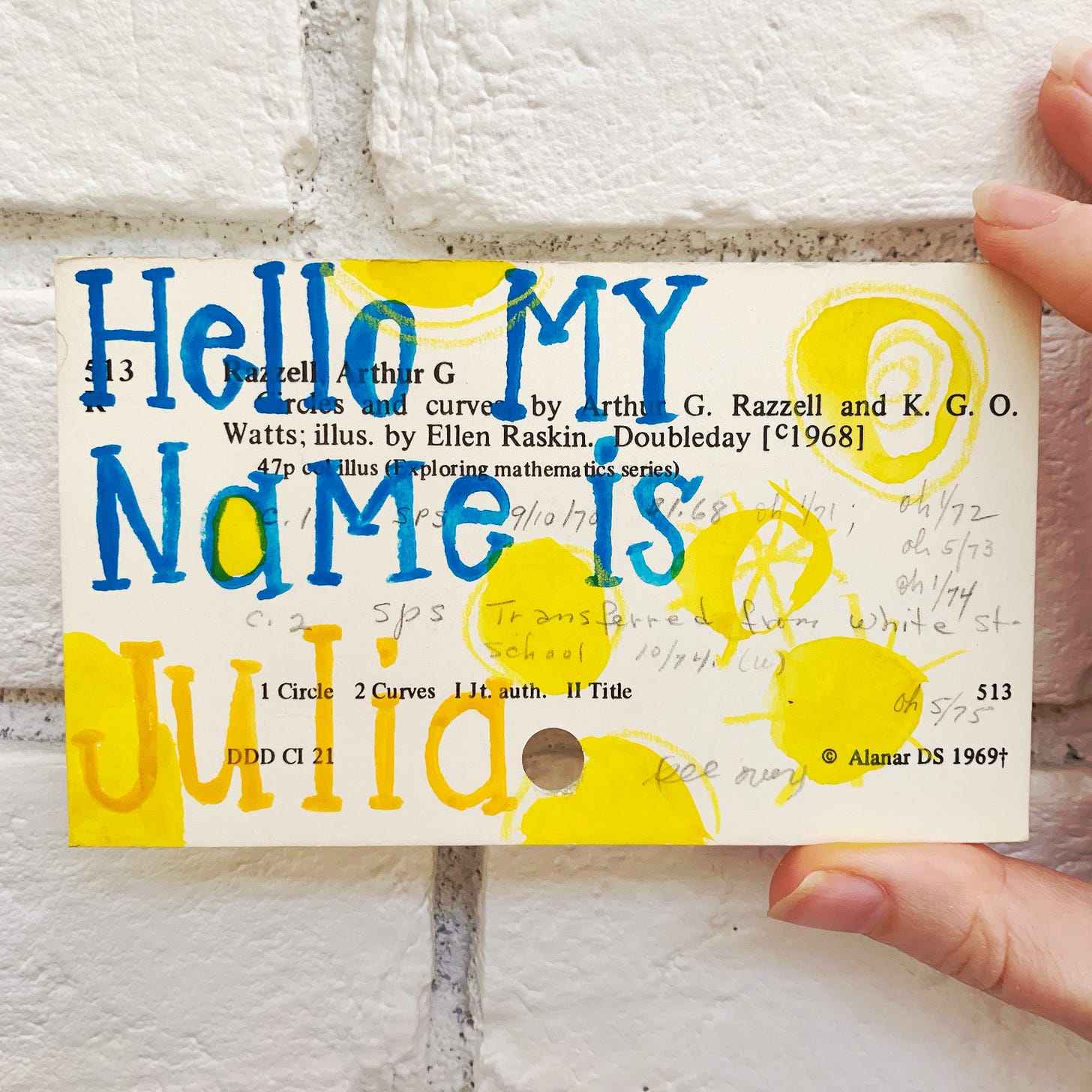 Hello hello from the land of social distancing. What is this world that we're now living in? I haven't quite wrapped my head around it. (Still.)
Creativity feels… impossible, hard, also necessary. How else, after all, are we supposed to get through this extremely bizarre time? But mostly it feels impossible. Everyone is home 24/7, so where is the space in my day to make?
I don't have it figured out. I'm hoping maybe you do. (If so, please share in the comments.)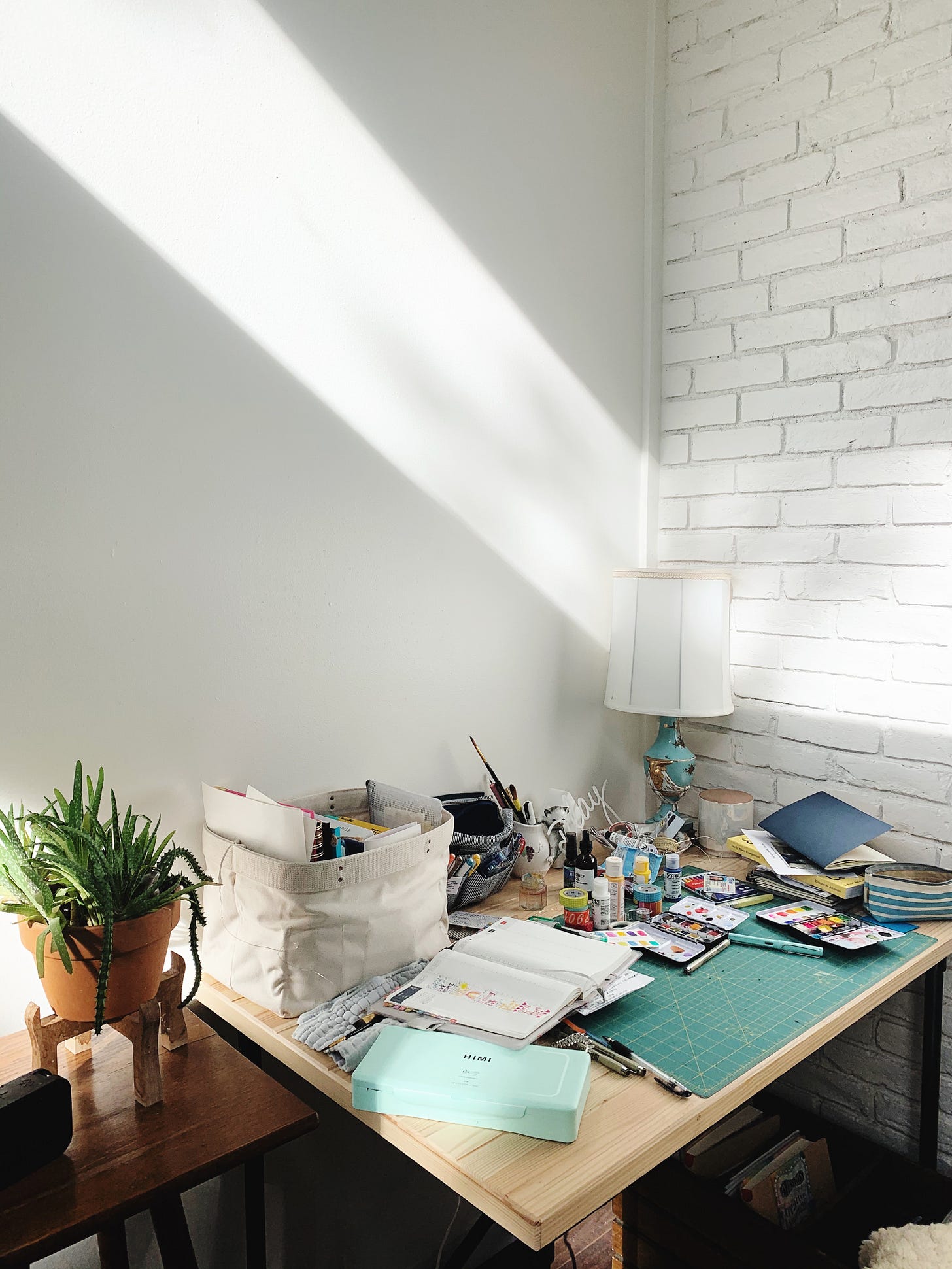 What has been working: leaning into my morning routine (more details below), and relying on classes to provide deadlines and accountability (I'm an obliger, after all). Last month was all about Revision Love and Liberate, in June I'm attempting the ICAD challenge, #1000wordsofsummer, and Here: Five Things. I'm getting back into cutting and pasting in a book (my favorite page so far is my summer reading list). I'm looking forward to workshopping the writing I did last month in the revision course with fellow writers in Writerly Love, and hopefully participating in the new Get Messy season, now that I'm reacquainted with my art journal.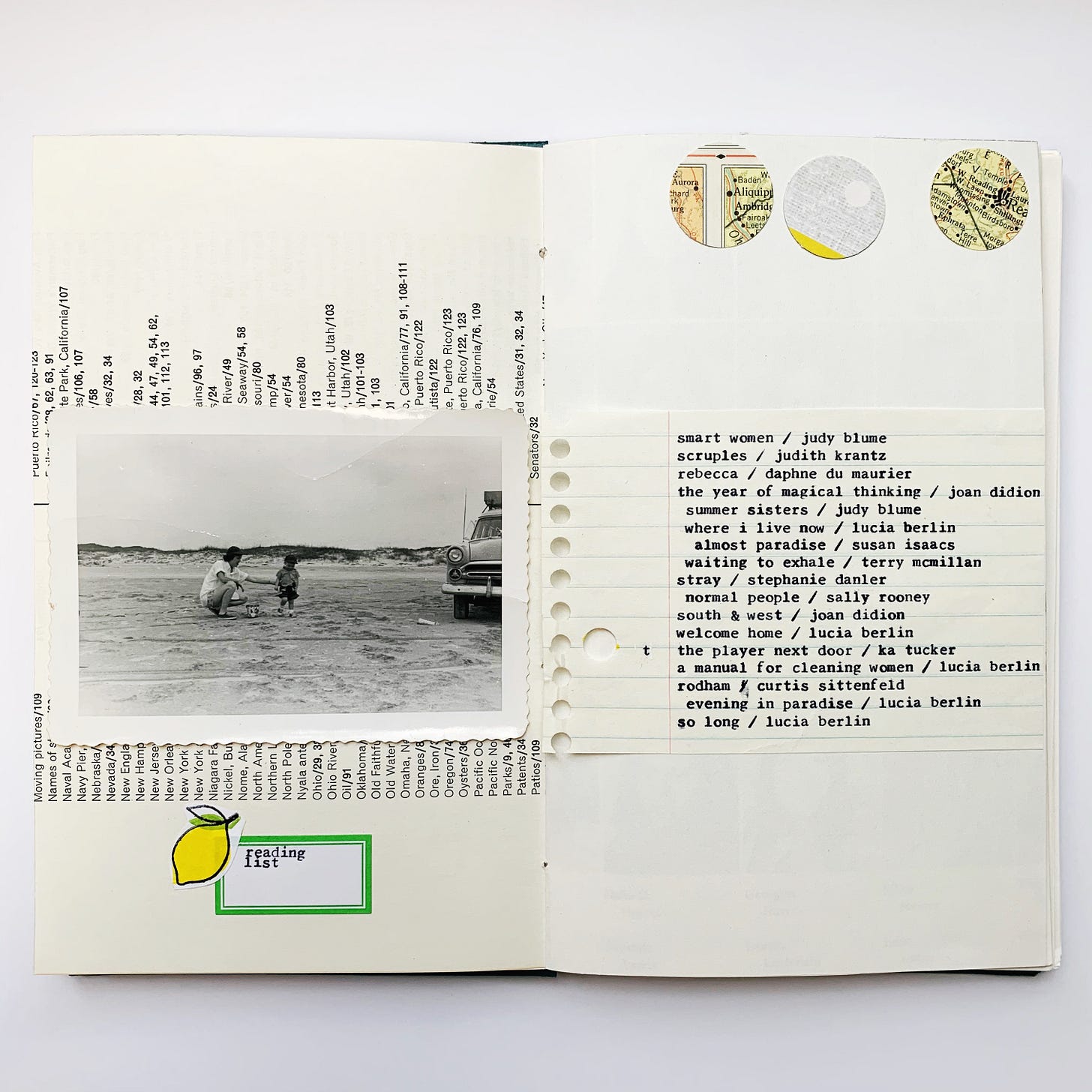 ---
Morning Routine
Best performed with coffee and a bowl of fresh fruit.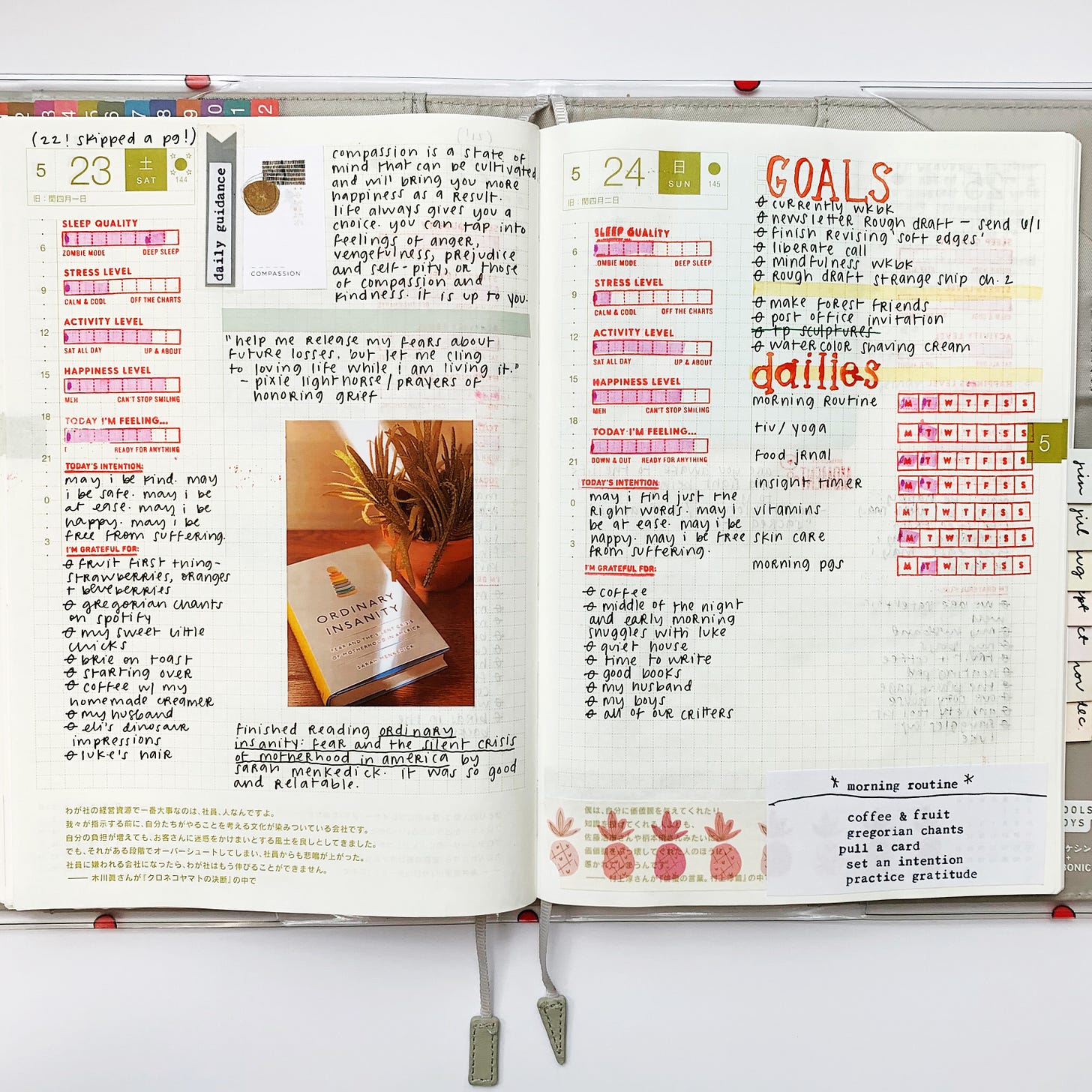 While listening to Gregorian chants on my AirPods, I work in my Hobonichi. I can't explain the Gregorian chants other than that I'm Catholic and it's very soothing for me. I can practically smell the incense. My favorite is Monks of the Desert (regrettably, they only have one album), but I've found others on Spotify that are acceptable.
I loosely follow the structure Esme Wang lays out in Productivity Journaling with Limitations. I just got the mood tracker stamp set from Everyday Explorers Co., which I use to do a quick check-in for sleep quality (usually terrible lately), stress level (high…), activity level, and so on. I fill in the sleep tracker first thing, but usually leave the rest until the end of the day or even the next morning. Next, I write my intention for the day, usually a variation of loving-kindness. Then, a gratitude list. Most days I pull a card (either from Inquire Within or Inner Compass) and stick in a photo or photocopy of the card.
These are the things I feel I "must do" to center myself in the morning. After that, as long as I have time/ my kids are still being chill, I'll move into morning pages (I'm back to doing these daily and I kind of hate how much of a difference it makes for me) or other work. I've been reading Pixie Lighthorse's Prayers of Honoring Grief and working through The Mindful Self-Compassion Workbook. This past week I've gotten into using Insight Timer and I've been trying to do that daily, even if it means meditating while Nature Cat blares in the background. So far I follow Sarah Blondin and Dora Kamau; a soothing voice is a must.
I also do a weekly check-in for goal-setting and habit-tracking.
This routine (unfortunately) does not make me the perfect wife and mother for the rest of the day, but it does help. It also keeps whatever creative work I'm trying to accomplish at the forefront of my mind, so I'm more likely to get to it before the day is over.
---
Reading & Watching
Sarah Menkedick's Ordinary Insanity was as amazing as I hoped it would be. A thoroughly researched deep dive into anxiety and motherhood.
Stray by Stephanie Danler was a gut punch in the best way. A book about trauma, about place, about family and the things we inherit, and the particular grief of growing up with parents with substance abuse issues.
I'm currently reading Rodham by Curtis Sittenfeld and loving it.
Normal People on Hulu… I have no words for how much I enjoyed it. It was beautiful and tortuous. I haven't read the book but it's on my summer reading list. (There's a lot of sex, but it's not gratuitous.)
---
Looking forward to…
The library sort of opening again (I'm expecting to at least be able to place holds and do curbside pick up starting June 8th)
New watercolors in the mail from Case for Making and stickers from Life Love Paper
Finishing my Find Your Fade shawl and starting a new project. Probably Nurtured or maybe the Heartstrings Crop (but without the colorwork)? Although I also have the desire to knit socks for the first time in my life and another shawl is also appealing…
---
Anti-Monotony and -Boredom Plan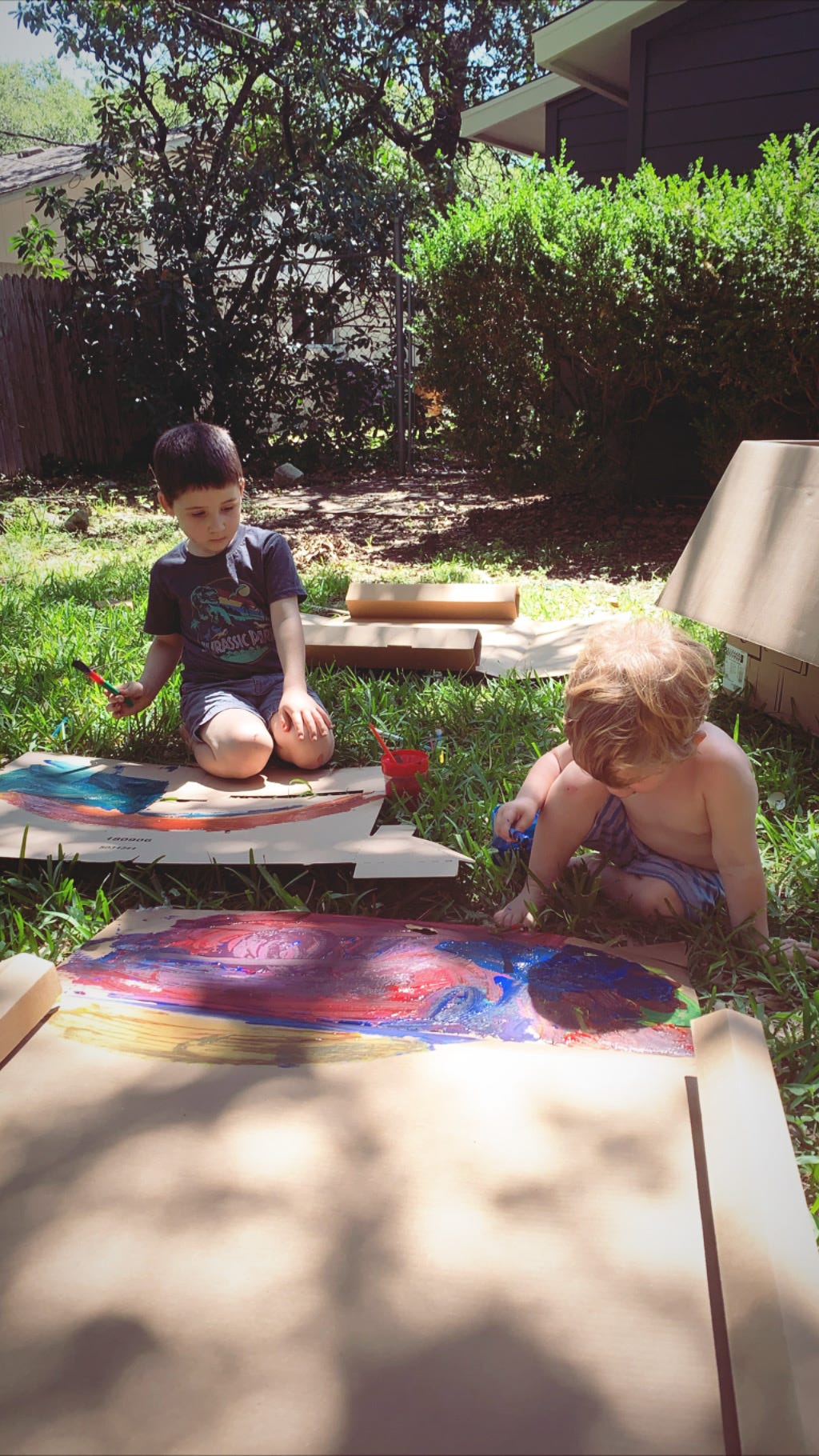 With school (such as it was) over, I'm trying to create a loose structure for our weekdays that doesn't involve my kids on screens all day and/or me losing my mind.
I purchased some nature guides from Peaceful Press. We're going to start the Ocean guide as soon as some picture books I ordered arrive (this is why I really need the library to open again!), along with this seashore animals unit.
I've also introduced Poetry Teatime Tuesdays (we've been reading Where the Sidewalk Ends) and Yay It's Wednesday Cake.
It's a work-in-progress. I've got a long list of potential projects (dinosaur gardens, stock tank pool, etc.) that I hope we can make happen.
How are you keeping your kids engaged & occupied this summer?
---
Thanks for reading. If you have a friend who would enjoy regular missives on creativity, art, and writing, please forward this along. If you're seeing this for the first time, you can subscribe here. For more, follow along on Instagram @theworkbooks.